Canadian law societies are big flirts, at least when it comes to alternative business structures (ABS) and allowing non-lawyers to own stakes in legal-services delivery companies. But what they're flirting with is irrelevancy.
Last year, the Law Society of Upper Canada dropped the idea of allowing non-lawyers to hold majority ownership of law firms, as in England and Australia where firms can list shares on an exchange or raise capital from private-equity funds instead of relying solely on funds raised through debt.

But the working group has continued to examine the possibility of allowing non-lawyers to hold a minority stake in areas of legal services not well served by traditional practices in the name of fostering innovation.
The exercise has largely been met with a collective yawn.
Has innovation been sitting on its hands while Ontario's law society decides whether to bless non-lawyer minority ownership of innovative structures? In-house lawyers are increasingly insistent legal fees be reined in and law firms are increasingly desperate to find ways to do that. Is that all on hold?
"Innovation is not waiting. That's something we should all be aware of," says Chris Bentley, Executive Director of the Legal Innovation Zone at Ryerson University in Toronto. "Every corporation that wants to survive is in a race to the next innovative level. Every one. And I bet every corporation is going to be looking for innovative ways for their legal department either to support corporate innovation or to innovate their own services.
"With technology, jurisdictional boundaries mean less and less. I'm not sure that those who look to the law society to restrict or slow or prevent change – to maintain the status quo – are aware of how quickly things are changing. The unfortunate thing about the ABS discussion is it has become a stalking horse for innovation, and it's not. It's a means of funding it but it's only one means."
Bentley, a former Attorney General of Ontario, says tech entrepreneurs are using incubators like his to get free space and access to mentors, then raising capital from family, friends, supporters, angels, different government programs, or even private funding arrangements to bring their new technologies to market. The law society debate doesn't factor in to their work.
Jason Moyse, Industry Lead at MaRS LegalX, a Toronto-based cluster that connects technologists, designers, engineers and lawyers, says much the same thing.
The promising new technologies are not strapped for cash. While some of the money may come from permitted investors such as law firms like Blake, Cassels & Graydon LLP or McCarthy Tétrault LLP, two of LegalX's sponsors, Moyse calls the discussion about alternative business structures "an irrelevant, a red herring.
"Is capital constrained because of a lack of alternative business structures in this region? To date, with what I see, capital is not an issue. It won't necessarily come from Canadian angels or venture capitalists, it will be global capital that comes in.
"The thing about legal technology or startups is they don't think provincially, they think globally. If they've got a terrific product with the ability to scale, those types of things will always be able to attract capital."
Many of the most promising tech startups are aiming squarely at in-house counsel, who are perennially under budget pressures from their company.
Moyse points to Beagle Inc., a contract analysis company out of Kitchener, Ont. Beagle very quickly scans the document and advises with a colour map which provision favours which side, or is neutral, allowing a non-lawyer to see how it is weighted.
While it was originally conceived to help small- and medium-sized businesses that didn't have general counsel, says Moyse, "the product actually does work in the in-house environment.
"In fact, they're doing some paid trials with companies like Volkswagen because for large volumes of contracts, a sophisticated business person could at least have a first pass review of the document using a tool like that. That frees up the lawyers in the in-house department to focus on the higher-value work.
"If you have NDA agreements that's not always the best use of a lawyer's time to do a review. If there are hundreds of them to be reviewed, a tool like Beagle can be very helpful as a first pass."
He also points to Global-Regulation Inc., a Canadian startup that recently launched a legislation search engine allowing users to search more than a million laws and regulations from 31 countries, including the European Union, United States, Canada, China, Philippines, Sri Lanka, Ireland, Germany and Japan. The program could be a tremendous help to in-house departments of companies with global operations, saving them many hours of human research and other costs.
So is the in-house Bar helping to drive innovation in this area? Moyse says not directly. "The in-house market does not realize the degree to which they have the stronger hand, from a bargaining position, with their legal position. They're paying too much and getting too little. It's the ones who push back against their providers that are starting to drive innovation."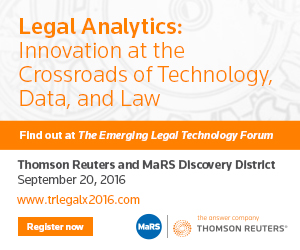 Fred Headon, Assistant General Counsel at Air Canada, is one who is actively pushing to innovate.
Headon says if some in-house counsel appear to be slow to embrace innovation, it's partly that "nobody taught us how to do this. So we struggle with how to innovate. Cheaper is one thing, we'd all like to pay less, but that only gets you so far into the conversation. How are you going to do that once you've used all your traditional negotiation skills to get the price down?
"That's where in-house can play a helpful role because of our proximity to the client, even though we're not necessarily more equipped to innovate."
Headon, who headed the Canadian Bar Association's Legal Futures Initiative, sees one of the most exciting growth areas for general counsel as automating the client interface — allowing business executives to do their own input on their own schedule instead of being forced to attend a midday meeting with the company's lawyers.
He lets slip that Air Canada is actually working on its own technology that does just that. "The more we can do to gather in information, get the preliminary pieces of the case organized, deal with our clients in ways that are familiar and suit them without completely disrupting their lives, the more it will go to our relevance and credibility with the client.
"The same way you can file your taxes online, could you perhaps shoot a whole pile of supporting documents along with your first crack at answers to your lawyer once the kids have gone to bed instead of the middle of the workday? And what if the machine could prompt you in the questions your lawyer is probably going to ask because, in a lot of files, there are pretty routine questions as we try to get up to speed with what the client is looking for.
"If we could have the machine recognize certain answers, recognize certain documents, and start to gather more of that information when it suits the client, those kinds of systems are the ones that have me the most excited right now."
When asked who at Air Canada is working on the project, and whether they are using outside tech advisors, Headon says, "I am. I am working with our IT folks and our human resources folks here to see what we can do to automate that interaction, at least in the early stages of the file to free up some of our time."
Would he eventually consider selling the program if he can get it running as hoped? "We'll have to see," he says laughing. "Interesting question."
As for who would be able to invest in bringing something like that to market, "I expect that the law society rules are but one potential hoop to jump through."
While in-house advisors without question want the benefits of innovation, few, like Headon, are willing to invest their business's time or money to develop something for the use of one single client.
What in-house lawyers want is for their law firms to make the investment in platforms that can be spread over multiple clients, allowing the in-house department to reap the benefits of doing tasks more efficiently with no or little development cost.
But law firms have a problem. Many don't have the cash or the buy-in from the partnership to spend millions creating a new technology.
In Montréal, Alexandre Thibault, a partner at Therrien Couture lawyers L.L.P., says the current structures of law firm actually discourage it. "There's a lack of incentive for partners to want to innovate and the reason for that is we are in what we call a cash-and-carry business. Essentially you're pulling out all the working capital every year and splitting it amongst your partners, right?
"That works as long as you still have clients who are willing to pay the billable hours and your business model works so it would be well and good if the clients were super happy about this. But the fact is the clients aren't. They're asking for ways for firms to innovate."
Thibault's law firm – which was family owned – developed a stand-alone company called Edilex that offers lawyers and companies document-automation systems for things like RFPs. The program generates legal documents using intelligent clauses and rules once the client selects and fills in the relevant information.
He says his law firm, which wholly owns Edilex, invested upwards of seven figures to develop it, something that might be difficult in a traditional large firm structure. "It's really hard to get a 60-year-old lawyer who has a window of five years before retirement to agree on a seven-figure investment on something that's going to be cash-flow negative for the first three to four years and start paying dividends five years down the road.
"But that's what you're looking at for a tech project, your capex is going to be really significant and it's going to be up front, so your older partners are incentivized not to go down that road. And I can't fault them for that. I think the real innovation is going to come from smaller, more agile structures."
Janis Criger, a Hamilton, Ont. lawyer, agrees. She told the Law Society of Upper Canada in a pointed comment letter on the ABS issue that "[y]ou don't need an alternative business structure to provide legal services in an innovative way.
"All you really need are a brain, ten fingers and a decent internet connection on an encrypted device [an iPad with a solar powered Bluetooth keyboard can be had for about $1,200.00]. Technology gets cheaper every day. … Large corporations are unlikely to deliver legal services in any innovative way in my view."
Yet the large firms aren't all sitting on their hands.
Many big names are getting around gambling big bucks on individual startups by supporting legal accelerators and incubators that work on multiple projects at the same time.
Dentons, for example, owns NextLaw Labs, a business accelerator focused on developing new legal technologies. Through partnerships with technology companies, startups, other business accelerators and legal vendors, NextLaw says it's already investing in promising companies to develop a suite of new technologies.
It points to investments in Apperio, which helps businesses track multiple legal projects at the same time, and in ROSS Intelligence Inc., which allows users to ask questions in plain language then have the computer read through the entire body of law and return a cited answer and topical readings from legislation, case law and secondary sources.
So some law firms are already getting directly involved in innovation and they don't need the law society's blessing on alternative structures for that.
But other firms are doing what Gwyneth Paltrow famously called "conscious uncoupling," removing themselves from the debate over alternative business structures by leaving the law firm structure entirely.
When Joe Milstone co-founded Cognition LLP in 2005, it was an onshore outsourcer structured as a law firm. It stayed that way for a decade.
Over a year ago, Cognition wrote a scathing comment letter to the Law Society of Upper Canada on the issue of permitting outside investment in law firms, saying like other recent entrants and innovators in the Canadian legal market, Cognition "has been entirely bootstrapped" by the existing rules they must operate in.
"We have been significantly limited in our potential growth due to the constraints placed against the allowance of non-legal investors. We have many future strategy plans that include the further adoption of technology to enhance the speed and efficiency of our service delivery. However, outside investment would allow us to take on a larger number of such projects and build our management knowledge base to ensure their successful rollout."
As it turns out, Cognition didn't wait around for the law society's answer. In January, the firm did a deal with US-based Axiom, a deal structured around law society rules.
Cognition split its business into two: Lawyers who act as short-term advisors for companies with general counsel and lawyers who act as short-term advisors for businesses with no in-house department.
The in-house division is no longer structured as a law firm; Axiom Global Canada is a business and its lawyers are a mix of independent contractors and employees.
Milstone says as long as the actual person delivering the legal advice is a licensed lawyer, there is no requirement that they work for a law firm.
So why don't more law firms structure themselves as corporations with equity holders instead of partners? Milstone says history, in short. "There were a lot of advantages to being a law firm in terms of that's the traditional model that clients were traditionally used to, and were historically familiar with."
Milstone expects young new firms that plan to integrate technology into their delivery models to increasingly choose to structure themselves as corporations "especially as the delivery of legal services melds and combines and in some ways is even overshadowed by process and project management and the use of technology in managed services."
Does that make the law society debates over alterative business structures obsolete? He says not necessarily, because it would be something of a nightmare for existing law firms that want to raise new sources of capital to change over from partnerships to corporations just to get around law society rules. Even if some of them look like they were written using a quill.
Meanwhile, innovation marches on. In-house counsel are going to benefit from all the developments flying off the drawing board. If anything, it appears that law firms may be the ones that miss out as younger, nimble and better-funded business structures take exciting new technologies and apps directly to their best clients.
Innovators' Advice for In-house Counsel
Thought leaders in legal innovation offer advice for in-house counsel looking to innovate
"If they're fulfilling their mandate, which is basically to treat the company's money as if it were their own, then it really is critical that the new-world general counsel be stewards of all these different options. It's really their job to calibrate all these different service models, different technology models, new processes that have recently become available. The CEOs, the board and the companies are really relying on them to use a better variety to create the most optimum and efficient delivery of services for the company."
-– Joe Milstone, Co-founder of Cognition LLP
"You know the way Scotiabank says you're richer than you think? I would tell the in-house Bar they have a greater bargaining position, both in terms of pricing but also in the level of innovation and service delivery that they're getting from their providers. They are entitled to a better deal."
-– Jason Moyse, Industry Lead at MaRS LegalX and Manager, Legal Business Solutions at Elevate Services
"Keep your eyes open because we will see in the market, shortly I think, many ways to save money and save time and to do things in a way that's more familiar. All that speaks to the value your law branch brings to your company."
-– Fred Headon, Assistant General Counsel – Labour and Employment Law at Air Canada
"I'd say the same thing to lawyers that are in-house that I'd say to anyone these days: The one constant in life is change. It's a very competitive world, if you're not looking at how to do what you're doing today in a significantly better way tomorrow then you've already fallen behind."
-– Chris Bentley, Executive Director of the Legal Innovation Zone at Ryerson University