There's something awfully sobering about hitting the half-century mark, particularly when you realize you've already spent over half of that life "in the law." A recent discussion with a former colleague of mine led to some reminiscing about my career so far: judicial law clerk, Bay Street associate and partner, government policy advisor, academic, university administrator and now law school dean. There's merit in having more of a conversation not only about what we've done, but why we've done it, what's changed, and what's next. The lessons are both personal and professional, more than one for each candle on the proverbial cake.

Professionally, the journey has been spotted with milestones. Since my call in 1994, both grand and small have been transformative. The rise of environmental law and corporate social responsibility; the creation of international criminal courts and tribunals; the seemingly more mundane introduction of word processing, voice transcription systems, portable laptops; even mitochondrial DNA evidence — all have transformed not only what we practice, but how. The September 11 attacks ushered in the fundamental question of how to balance civil rights with security and defence in an age of terrorism, a debate taking on new and poignant importance in the wake of the Paris attacks.

And the economic environment my cohort has experienced during the past 25 years has been radically different than what the boomers (and boomer lawyers) experienced even just a decade earlier. Very few have stayed as partners in one firm, if they've made partner at all. In 1993 many couldn't land articling positions without difficulty, and hire-backs were brutal: two of 12, three of 18, six of 11. One colleague in government went from renewable one-year contracts to renewable six-month contracts to renewable three-month contracts before he eventually landed something more permanent. Not optimal when you're looking for stability as you're trying to start the other parts of the next phase of your life – house/mortgage, family – as well as your career.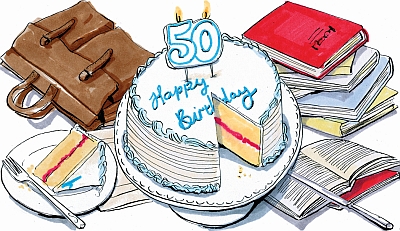 And for many, the legal career they had envisioned when they were bright-eyed graduates was entirely illusory: "Why I'm Leaving Law" was not only a seminal 2010 article in a major Canadian legal magazine but a clarion call for many – especially women – who felt they'd been sold a bill of goods. The profession started to respond with task forces and studies, but by then it was much too late.

Coming up to the half-century mark, I've thought it important to revisit people and places that have been talismans for this journey. Last fall I visited the 9/11 memorial and new museum in New York City, still struck by the loss, and the loss of innocence, of that horrible day. It all remains so fresh. Walking beside the staircase that was the portal for the final few who got out of the towers (one of whom I've met) cuts through the heart.

The tragedy of Paris, too, offers lessons — that life is about more than just what goes on in the workplace (though a bright young lawyer of 26 murdered at the Bataclan was memorialized as a "wonderful personality in the office"); that "we should drink wine, and listen to music, and be with our friends." Those cut down while doing just that – and celebrating a birthday in a cafe on a beautiful Friday night – make this one a little less self-indulgent and more joyous for me. I'll spend it surrounded by friends, and the friends who have become family, toasting those who have gone before and celebrating the potential of the years ahead.

Happy Birthday indeed.

It's been a privilege to share my journey through 43 columns. Time for other adventures. Thanks to my editor, David Dias, who wields a deft editorial scalpel and the patience of Job.


Paul Paton is the Wilbur Fee Bowker Professor and Dean of Law at the University of Alberta. He can be reached at
[email protected]

.