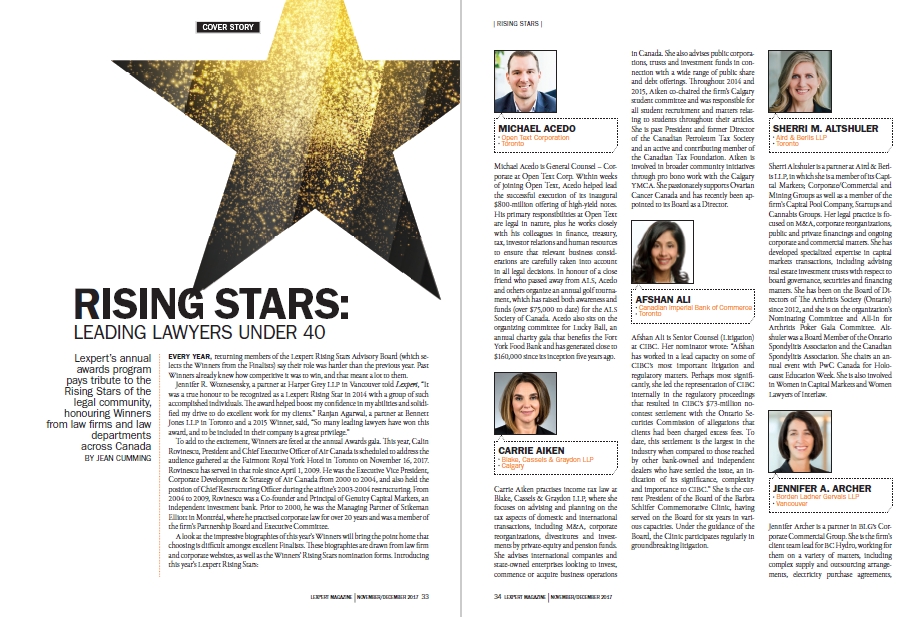 EVERY YEAR, RETURNING MEMBERS of the Lexpert Rising Stars Advisory Board (which selects the Winners from the Finalists) say their role was harder than the previous year. Past Winners already knew how competitive it was to win, and that meant a lot to them.

Jennifer R. Woznesensky, a partner at Harper Grey LLP in Vancouver told Lexpert, "It was a true honour to be recognized as a Lexpert Rising Star in 2014 with a group of such accomplished individuals. The award helped boost my confidence in my abililties and solidified my drive to do excellent work for my clients." Ranjan Agarwal, a partner at Bennett Jones LLP in Toronto and a 2015 Winner, said, "So many leading lawyers have won this award, and to be included in their company is a great privilege."

To add to the excitement, Winners are feted at the annual Awards gala. This year, Calin Rovinescu, President and Chief Executive Officer of Air Canada, is scheduled to address the audience gathered at the Fairmont Royal York Hotel in Toronto on November 16, 2017. Rovinescu has served in that role since April 1, 2009. He was the Executive Vice President, Corporate Development & Strategy of Air Canada from 2000 to 2004, and also held the position of Chief Restructuring Officer during the airline's 2003-2004 restructuring. From 2004 to 2009, Rovinescu was a Co-founder and Principal of Genuity Capital Markets, an independent investment bank. Prior to 2000, he was the Managing Partner of Stikeman Elliott in Montréal, where he practised corporate law for over 20 years and was a member of the firm's Partnership Board and Executive Committee.

A look at the impressive biographies of this year's Winners will bring the point home that choosing is difficult amongst excellent Finalists. These biographies are drawn from law firms and corporate websites, as well as the Winners' Rising Stars nomination forms. Introducing this year's Lexpert Rising Stars (and for bios and photos of this year's and previous year's winners, please click here):

Michael Acedo
Open Text Corporation
Toronto

Michael Acedo is General Counsel – Corporate at Open Text Corp. Within weeks of joining Open Text, Acedo helped lead the successful execution of its inaugural $800-million offering of high-yield notes. His primary responsibilities at Open Text are legal in nature, plus he works closely with his colleagues in finance, treasury, tax, investor relations and human resources to ensure that relevant business considerations are carefully taken into account in all legal decisions. In honour of a close friend who passed away from ALS, Acedo and others organize an annual golf tournament, which has raised both awareness and funds (over $75,000 to date) for the ALS Society of Canada. Acedo also sits on the organizing committee for Lucky Ball, an annual charity gala that benefits the Fort York Food Bank and has generated close to $160,000 since its inception five years ago.

Carrie Aiken
Blake, Cassels & Graydon LLP
Calgary

Carrie Aiken practises income tax law at Blake, Cassels & Graydon LLP, where she focuses on advising and planning on the tax aspects of domestic and international transactions, including M&A, corporate reorganizations, divestitures and investments by private-equity and pension funds. She advises international companies and state-owned enterprises looking to invest, commence or acquire business operations in Canada. She also advises public corporations, trusts and investment funds in connection with a wide range of public share and debt offerings. Throughout 2014 and 2015, Aiken co-chaired the firm's Calgary student committee and was responsible for all student recruitment and matters relating to students throughout their articles. She is past President and former Director of the Canadian Petroleum Tax Society and an active and contributing member of the Canadian Tax Foundation. Aiken is involved in broader community initiatives through pro bono work with the Calgary YMCA. She passionately supports Ovarian Cancer Canada and has recently been appointed to its Board as a Director.

Afshan Ali
CIBC
Toronto

Afshan Ali is Senior Counsel (Litigation) at CIBC. Her nominator wrote: "Afshan has worked in a lead capacity on some of CIBC's most important litigation and regulatory matters. Perhaps most significantly, she led the representation of CIBC internally in the regulatory proceedings that resulted in CIBC's $73-million no-contest settlement with the Ontario Securities Commission of allegations that clients had been charged excess fees. To date, this settlement is the largest in the industry when compared to those reached by other bank-owned and independent dealers who have settled the issue, an indication of its significance, complexity and importance to CIBC." She is the current President of the Board of the Barbra Schlifer Commemorative Clinic, having served on the Board for six years in various capacities. Under the guidance of the Board, the Clinic participates regularly in groundbreaking litigation.

Sherri M. Altshuler
Aird & Berlis LLP
Toronto

Sherri Altshuler is a partner at Aird & Berlis LLP, in which she is a member of its Capital Markets; Corporate/Commercial and Mining Groups as well as a member of the firm's Capital Pool Company, Startups and Cannabis Groups. Her legal practice is focused on M&A, corporate reorganizations, public and private financings and ongoing corporate and commercial matters. She has developed specialized expertise in capital markets transactions, including advising real estate investment trusts with respect to board governance, securities and financing matters. She has been on the Board of Directors of The Arthritis Society (Ontario) since 2012, and she is on the organization's Nominating Committee and All-In for Arthritis Poker Gala Committee. Altshuler was a Board Member of the Ontario Spondylitis Association and the Canadian Spondylitis Association. She chairs an annual event with PwC Canada for Holocaust Education Week. She is also involved in Women in Capital Markets and Women Lawyers of Interlaw.

Jennifer A. Archer
Borden Ladner Gervais LLP
Vancouver

Jennifer Archer is a partner in BLG's Corporate Commercial Group. She is the firm's client team lead for BC Hydro, working for them on a variety of matters, including complex supply and outsourcing arrangements, electricity purchase agreements, load displacement agreements and various procurements, including those related to the Site C Clean Energy Project. Site C, with a cost estimate in excess of $8 billion, is a third dam and hydroelectric generating station on the Peace River in northeast BC. She has volunteered her time to assist with the organization of the YWCA Women of Great Distinction Awards, and in 2017 participated as a judge for the Association of Women in Finance PEAK Awards. Archer is actively involved in the Next Leaders Council of the Business Council of British Columbia, the Vancouver Board of Trade and the Vancouver Chapter of Associates for Corporate Growth. She was an Adjunct Professor at the University of BC Faculty of Law (2010 to 2014) where she co-taught a class on corporate matters.

Chris Armstrong
Goodmans LLP
Toronto

Chris Armstrong is a Goodmans LLP partner, practising in the areas of restructuring, commercial insolvency, M&A and corporate law. His practice has included acting for debtors, court-appointed officers, bondholders, purchasers and other participants in a number of complex cross-border and Canadian restructurings, including Nortel Networks, Crystallex International Corp., Tervita Corp., Horsehead Holding Corp., Smurfit-Stone, Northstar Aerospace and Eddie Bauer, as well as acting on behalf of purchasers and vendors in a number of receivership sales. For the past eight and a half years, Armstrong has played an integral role in the Nortel proceedings. Armstrong is an Adjunct Professor at Western Law School, teaching the Advanced Restructuring course. He received in 2016 the USC Teaching Honour Roll Award of Excellence. In 2014, he received the Ontario Provincial Police Commissioner's Citation for Lifesaving and the St. John Ambulance Lifesaving Award for assisting and resuscitating a cottage neighbour during a near-drowning incident.

Alexandre-Philippe Avard
Dentons Canada LLP
Montréal

Alexandre-Philippe Avard joined Dentons in 2012. His practice is focused on commercial litigation and Aboriginal law. He has been involved, either as lead or supporting counsel, in complex and high-profile cases, including Chippewas of the Thames First Nation v. Enbridge Pipelines, 2017 SCC 41. He was a key member of the team representing Enbridge before the SCC in proceedings where Chippewas of the Thames First Nation challenged the legality of the National Energy Board's approval of a pipeline project. The upcoming judgment will likely be a landmark decision on the Crown's duty to consult Aboriginal peoples. Fully committed to being paperless, Avard created databases of documents and precedents relevant to his practice. He consistently works with litigation software and uses electronic devices in court appearances and client meetings. In addition, Avard is part of Dentons' National E-Discovery Committee, identifying best practices and technologies, and providing training to litigation lawyers and paralegals.

Annie Bernard
Fasken Martineau DuMoulin s.e.n.c.r.l., s.r.l.
Montréal

Annie Bernard's construction law practice is multifaceted and includes contract drafting, project management, contract disputes, construction liens, public private partnerships, building authority licensing, construction defects, procurement advice, delay claims, product liability, claim bonds, international infrastructure projects with an emphasis on Africa and international arbitration. Bernard has been a Director of Théâtre Le Clou for eight years. She has also been instrumental in creating "Le Cube," an international research and creation centre for theatre devoted to youth. She is involved in the Fasken "F3 ‒ Forces Féminines Fasken" group and is the Co-Founder of the Fasken Construction Committee, which has organized in the past two years a seminar held in Montréal and Québec for clients and potential clients. She has been President of the Construction and Infrastructure Law Committee of the Canadian Bar Association ‒ Québec region for the past two years. Since 2013, she has been the Board Secretary of the Project Management Institute (PMI-Montreal).

Erin Best
Stewart McKelvey
St. John's

Erin Best is a litigator and head of the Stewart McKelvey Newfoundland and Labrador litigation group. She has appeared before all levels of court in NL representing over a dozen regional, national and multinational insurance clients, municipalities and construction clients. She regularly acts in complex and multi-party cases. As an intellectual property lawyer and trade-mark agent, Best has worked with her clients to develop and execute their brand and franchising strategies. In her role as an Officer of the CBA National IP Section, she has been heavily involved in consultations on the Copyright Act and Trade-marks Act and regulations, including co-chairing the CBA submission on the overhaul of the Copyright Act in 2012. As Vice-Chair of the East Coast Music Association, Best helped implement Diversity and Equality policies for musicians in Atlantic Canada.

Simon Bieber
Wardle Daley Bernstein Bieber LLP
Toronto

Simon Bieber has been with Wardle Daley Bernstein Bieber LLP since July 2010 and is now the Managing Partner of the firm. He is currently lead counsel defending a multi-million-dollar price-fixing class action. He acted for the former Chief Financial Officer of Sino-Forest Corp. in both class action and regulatory proceedings. Bieber was one of the first counsel to join the Litigation Assistance Program that provided pro bono representation to respondents before the Ontario Securities Commission: he acted for approximately 10 unrepresented litigants in the span of a year. Bieber is also involved with The Advocates' Society and he regularly speaks at conferences hosted by the Law Society of Upper Canada, the American Bar Association, the Ontario Bar Association and The Advocates' Society. In the past year, Simon has presented in Bogota, Colombia, about litigation risks arising from North American companies engaging in mergers or acquisitions with South American companies.

Ryan J. Black
McMillan LLP
Vancouver

Ryan Black is a former software and internet developer, and now is an equity partner at McMillan LLP. He practises technology-related business law, and is a member of the Technology, Intellectual Property and Privacy group as well as Co-Chair, Information Technology, at McMillan's Vancouver office. He takes on various leadership roles within the firm and in the broader community; and is called upon regularly by news media to provide commentary on topical and controversial legal issues. Black presents regularly at UBC's Business Law Clinic and is active in professional organizations such as the Canadian IT Law Association and Video Game Bar Association for whom he is currently organizing the inaugural VGBA Canada Summit in Vancouver. He is a Director of the non-profit society that guides one of Vancouver's marquee events, the Honda Celebration of Light.

Audrey Boctor
IMK LLP
Montréal

Audrey Boctor represents clients in complex civil and commercial disputes and has extensive experience in appellate advocacy. She has a broad public law practice, including constitutional and human rights law and a range of administrative and regulatory matters. Boctor also regularly advises on matters relating to private international law, including jurisdiction, state immunity, recognition and enforcement of foreign judgments and arbitral awards. She has been a Member of the Board of Directors and Legal Clinic volunteer at the Tyndale St-Georges Community Centre from 2013 to 2017. The Tyndale St-Georges Centre's mission is to empower the residents of Little Burgundy, an underprivileged neighbourhood of Montréal, through educational programs. She is very involved with the Canadian Bar Association, particularly with respect to Administrative law. Boctor represented the estate and son of the late photo-journalist Zahra Kazemi at all levels of court, including the SCC (
Kazemi Estate v. Islamic Republic of Iran
, 2014 SCC 62).
William T. Cahill
Cox & Palmer
St. John's

William Cahill has an active practice in the areas of mining, corporate finance, commercial real estate, and fisheries & marine law. He represents both private and public mining companies in a wide range of areas, including asset acquisition, M&A and financing, and has clients trading on exchanges in Canada, the US and the UK. In addition, Cahill advises financial institutions and corporate borrowers on financings and secured transactions; and represents financial institutions on security enforcement, debt collections and judgment enforcement. Through his past leadership of the Maritime Law Section of the CBA, Cahill has taken an active role provincially and nationally on legislative and law reform issues, particularly in the area of fisheries. Practising in a province that still relies heavily on the sea as a way of life, Cahill uses his network to attract new clients and business.
Michelle Chaisson
Ryerson University
Toronto

Michelle Chaisson is Senior Legal Counsel and Assistant Secretary at Ryerson University. She is responsible for providing strategic and business advice in corporate/commercial law, procurement, infrastructure, privacy, IT, copyright, CASL compliance and marketing. She provides advice and support to the Board of Governors Secretariat on governance and Board matters and acts in a managerial role, through supervision of junior legal and administrative staff. Since 2013, Michelle has volunteered her time with Ronald McDonald House Charities Toronto (RMHCT) and she was elected to its Board in January 2017. She has served on its Nominating & Corporate Governance Committee and the Young Professionals Committee (YPC). Chaisson was instrumental in conceptualizing and implementing a marquee fundraising event for young professionals to increase their awareness of RMHCT. "The House Party" continues as the biggest annual fundraiser for the YPC.
Gerald Chan
Stockwoods LLP
Toronto

Gerald Chan is a partner at Stockwoods LLP where he defends white-collar and regulatory prosecutions. For the past two years, Chan has led the defence of Uber partners in Toronto and surrounding jurisdictions. In Toronto, he successfully obtained the withdrawal of all charges in "Project Snowball," the high-profile police sting operation that resulted in charges under the
Highway Traffic Act
. And in London, Hamilton, Kitchener and the Niagara Region, Chan obtained the withdrawal/stay of all charges against Uber partners. Chan also serves on the Litigation Committee of the Criminal Lawyers' Association, which manages the CLA's interventions in cases of importance to the Defence Bar. And he is one of two co-editors of
For the Defence
, the journal of the Criminal Lawyers' Association.
Shantona Chaudhury
Pape Barristers Professional Corporation
Toronto

Shantona Chaudhury is a partner
at
Pape Barristers Professional Corporation. In less than eight years, she has appeared in 30 reported cases (including 23 at the Ontario Court of Appeal and one at the Supreme Court of Canada). She is Co-Executive Director of the Supreme Court Advocacy Institute, a national non-profit providing pro bono advocacy training to counsel appearing before the SCC through moot sessions with a panel of distinguished advocates. Chaudhury is also actively involved in Pro Bono Ontario: participating in Law Help Ontario; as amicus curiae for civil motions at the Ontario Court of Appeal and in the SCC Leave to Appeal Assistance Program. Pape Barristers is a counsel practice and thus visibility before the profession is critical. To this end, Chaudhury puts enormous effort into speaking and publishing. She speaks at half a dozen CLEs or more each year and is a judge at the Laskin moot, the annual national bilingual moot court competition in Canadian Administrative and Constitutional Law.
Michael Crichton
Gowling WLG
Ottawa

Michael Crichton is a partner in Gowling WLG (Canada) LLP and the Canadian leader of the firm's Intellectual Property Litigation & Strategy Group. His domestic and international clients consist of companies engaged in a wide range of technologies, including mechanical, electrical, computer hardware and software, manufacturing/fabrication, communications and related technologies. He has taught IP litigation and Patent Law as a volunteer Adjunct Professor at the University of Ottawa since 2009, and is a Member of the Court Practice Committee for the CBA. Crichton chairs the Ottawa chapter of the Licensing Executives Society (LES), organizing local educational and networking events. He is also an Executive Member of LES's Young Members Congress (Mentorship Co-Chair). Annually, Crichton is Gowling WLG's motionball (Special Olympics) team leader. He is also a long-time Director for the National Capital Division Freestyle Ski Association and is a volunteer coach for the Ottawa Internationals Soccer Club.
David Cuschieri
Torys LLP
Calgary

David Cuschieri is a partner at Torys LLP. He practises corporate and commercial law, with an emphasis on both domestic and international energy, oil and gas, power and related infrastructure transactions including acquisitions, divestitures, joint ventures, partnerships and project development. His recent notable work includes representing Burgess Energy in its $397-million (in aggregate) acquisitions of bitumen royalty interests in the thermal oil sands assets of Athabasca Oil Corp. Cuschieri plays a significant role at Torys in the day-to-day mentoring of associates and students. He was the principal mentor to two articling students, and created and implemented a new and unique context-based continuing legal education program for the Calgary office of Torys, a program he continues to develop and manage.
Antonio Di Domenico
Fasken Martineau DuMoulin LLP
Toronto

Antonio Di Domenico advises on all aspects of Competition law, including mergers, cartel investigations, class actions, advertising/marketing practices and abuse of dominance. Di Domenico has extensive trial and appellate experience and has appeared as counsel before Canada's Competition Tribunal, all levels of court in Ontario, the Federal Court of Canada and the Supreme Court of Canada. From 2014 to 2016, Di Domenico served a special appointment as counsel to Canada's Commissioner of Competition. He is Vice Chair of York University's alumni board and chairs its awards committee. He is a past Director of Osgoode Hall's alumni board and a former Chair of its mentorship program. Di Domenico served as pro bono counsel to the Canadian Civil Liberties Association, successfully representing the CCLA before the SCC in
Canada (Attorney General) v. PHS Community Services Society
, 2011 SCC 44, which granted Insite, a safe injection site, a Constitutional exemption to operate free from federal drug laws.
Patrick G. Duffy
Stikeman Elliott LLP
Toronto

Patrick Duffy is a partner at Stikeman Elliott LLP with a project development practice that includes environmental permitting and litigation, energy regulation and Aboriginal engagement. Among his cases, he was appeal counsel to the Ontario Energy Board in
Ontario (Energy Board) v. Ontario Power Generation Inc.
, 2015 SCC 44, a precedent-setting case that dealt with the intersection of public-utility regulation and labour relations. He was a Member of the Executive of the Aboriginal Law Section of the Ontario Bar Association from 2014 to 2017, and responsible for organizing the section's annual OBA Institute programs for 2015 and 2016. He has served on the University of Alberta's Faculty of Law External Advisory Board to the Dean since 2015; and has been a judge for Canada's Phillip C. Jessup International Law Moot since 2003. He contributes to the firm's recruitment efforts and has been a formal and informal mentor to Stikeman Elliott associates.
Ian Dunbar
McInnes Cooper
Halifax

Ian Dunbar is a member of McInnes Cooper's general litigation, construction and insurance groups and has represented insurers on a variety of issues, including casualty, coverage, property, fire loss, commercial liability and disability claims. Experienced in litigating commercial and corporate disputes, he has also acted as lead counsel in insurance and construction disputes, dispute resolution in the area of technology and intellectual property, and regulatory offenses. He has served as the Chair of the Municipal Law Section of the Canadian Bar Association's Nova Scotia branch and, since 2012, has been a part-time faculty member at Dalhousie University Law School. He is actively involved in student recruitment at his firm. In the community, Dunbar has been a dedicated Director of the skills-based Board of the Parkinson Society Maritime Region since 2012.
Tyson Dyck
Torys LLP
Toronto

Tyson Dyck is a member of Torys LLP's Environmental Group, and practises extensively in the areas of energy and infrastructure, mining and metals and climate change. In the mining sector, Tyson acts for companies acquiring, developing and operating major projects, including Cameco Corp., one of the world's largest uranium companies, on the multi-year, multi-billion-dollar Vision in Motion project to redevelop the Port Hope Conversion Facility. He is experienced in climate change law, including on the cap-and-trade systems established in Ontario, California and Québec and other jurisdictions. He advises many of Ontario and Canada's largest greenhouse-gas emitters, including Union Gas, on the development and implementation of the province's cap-and-trade program. He has co-lectured courses in Environmental and Climate law at the University of Toronto and Osgoode Hall Law School and has mentored students interested in developing careers in Environmental law.
Rory C. Engels
TD Bank Group
Toronto

Rory Engels is Senior Manager, Risk Management at TD Bank Group. Through his career, Engels has successfully led and completed a number of sophisticated transactions, including both private and public M&A transactions and numerous securities offerings in multiple jurisdictions, as well as securitization transactions involving multiple public companies. Through this experience, he has gained a thorough understanding of complex transaction structures and the securities, listing and governance laws for many different jurisdictions, including the United States, Australia and the United Kingdom/Europe. TD's acquisition of approximately 50 per cent of CIBC's Aeroplan credit card portfolio is an example of a deal on which he has played a critical role. He has acted as United Way Ambassador for TD.
David Forrest
Canada Goose Holdings Inc.
Toronto

David Forrest is General Counsel, Senior Vice-President at Canada Goose Holdings Inc. He started the company's in-house legal department, overseeing all legal issues for a diverse business that includes a vast manufacturing network, sophisticated marketing initiatives, a large IP portfolio and an international sales presence in 37 countries and multiple channels. His most significant recent accomplishment is guiding the company through its IPO in March 2017. Forrest also led the way on notable firsts for Canada Goose, including initiating e-commerce, opening the company's first retail stores in Toronto and New York and providing guidance on entering new global markets. He is a supporter of a number of charities, including those combatting poverty, funding participation in the Special Olympics and sending medical treatment overseas to underprivileged recipients.
Jarrett Freeman
Goodmans LLP
Toronto

Jarrett Freeman is a partner in the tax group at Goodmans LLP. His practice encompasses all aspects of income taxation that arise in corporate and commercial transactions, with an emphasis on M&A, corporate finance and real estate transactions, both domestically and internationally. He is a key member of Goodmans' REITs and income securities team. Freeman regularly advises REALpac (Canada's most senior, influential and informative voice in the real property investment industry) on strategic tax-related matters. He has written tax articles on a variety of income tax matters, including the taxation of real estate investment trusts, income fund conversions and the SIFT rules. He has been the lead lawyer in the efforts of the Joint Committee on Taxation of the Ontario Bar Association to respond to recent enactments to Ontario's
Land Transfer Tax Act
.
Jonathan Freeman
Cassels Brock & Blackwell LLP
Toronto

Jonathan Freeman is a partner in Cassels Brock & Blackwell LLP's Real Estate and Development Group. He represents traditional bank and non-bank lenders in complex real estate financing transactions, including those relating to term, acquisition, mezzanine and construction loan facilities, and he has extensive experience with commercial mortgage-backed securities and other types of securitized debt. He has financed all real estate asset classes, including many of Canada's largest seniors' housing projects, hotels, office buildings, shopping centres and multi-family residential apartment complexes. He has taken an active interest in veterans of the Canadian Armed Forces, specifically with their transition from military to civilian life. He is currently working with members of the Canadian Armed Forces, politicians and leaders in the business community to develop initiatives to assist troops with the transition from military to civilian careers.
Gareth Gibbins
OMERS
Toronto

Gareth Gibbins is Vice President, Pension Legal for OMERS. Among his contributions at OMERS, he is the legal lead of its Additional Voluntary Contributions program (in which there are more than $650 million in contributions). This requires him to draw on his intimate knowledge of the applicable legislation and existing AVC framework along with his ability to synthesize complicated regulatory and plan design considerations into an end product that is easy for plan members to understand. Having recently completed his term as Chair of the OBA Pensions and Benefits Law Section, Gibbins worked closely with his executive to refine the OBA's pension education programs and introduced new initiatives to enhance the OBA's public affairs outreach. In 2017, Gibbins was appointed to the FSCO Legal Advisory Committee, where he provides advice to the Deputy Superintendent of Pensions. He also actively participates in the CCCA Mentoring Program.
Jordan Glick
WeirFoulds LLP
Toronto

Jordan Glick focuses his litigation practice on Public law with an emphasis on self-regulating professionals and industries, securities litigation, access to information, and select criminal matters. His notable cases include
In Touch Retirement Living for Vegetarians/Vegans v. Registrar of the Retirement Homes Regulatory Authority
, [2013] O.L.A.T.D. No. 280, in which he successfully acted as lead counsel to the Registrar in the first hearing under the
Retirement Homes Act
; and
Ontario Securities Commission v. MineralFields Management Inc.
[2014], in which he was lead counsel to a principal of MineralFields, among Canada's largest distributors of flow-through limited partnerships. He is a Young Professionals Board Member of Chai Lifeline Canada, which is dedicated to supporting families and individuals facing critical and terminal illnesses; and a Co-Creator of Ko-Ach Adventures Camp for autistic children and at-risk youth.
Javier Gonzalez
Royal Bank of Canada
Toronto

Javier Gonzalez is Senior Counsel at Royal Bank of Canada. As a member of the Canadian Regulatory Team, he is a strategic advisor on matters of corporate, securities and financial institutions regulatory law. He has successfully obtained requisite regulatory approvals, overcoming obstacles and resolving issues to achieve key business objectives for the organization while mitigating legal risk. In 2015, Gonzalez was part of the in-house deal team that completed the largest transaction in RBC's history (US$5.4 billion), the acquisition of City National Bank of Los Angeles. He has been a participant in a diversity mentorship program and has helped to organize diversity events, including an annual Diversity Festival and a Speed Mentoring event. He has also participated in the RBC Race for the Kids Toronto, which benefited the Family Navigation Project at Sunnybrook Health Sciences Centre.
Jean-Philippe Groleau
Davies Ward Phillips & Vineberg LLP
Montréal

Jean-Philippe Groleau defends clients against class actions and white-collar prosecutions as well as in launching judicial reviews. He has successfully defended clients on diverse issues, including alleged breaches of consumer-protection legislation. Groleau is a Co-Founder and Member of the Board of Directors of Health and Education Now, an organization involved in community development in Benin and Cameroon. He is also a member of Davies Ward Phillips & Vineberg LLP's Montréal Student Committee and Diversity and Inclusion Committee. He acted pro bono as lead counsel for the Canadian Civil Liberties Association in two groundbreaking SCC cases concerning freedom of religion in an educational context (
Loyola High School v. Québec (Attorney General)
, 2015 SCC 12, and
S.L. v. Commission scolaire des Chênes
, 2012 SCC 7). In
Loyola
, Chief Justice McLachlin and two colleagues adopted Groleau's submissions on whether organizations, as opposed to natural persons, are protected by freedom of religion.
Loyola
is the leading case in Canada on the communal aspects of freedom of religion.
Nancy Hamzo
Baker McKenzie
Toronto

Nancy Hamzo is a transactional lawyer at Baker & McKenzie LLP, focusing on cross-border M&A and corporate reorganizations. She represents multinational clients in a variety of industries with a particular focus on the pharmaceutical and technology sectors. For example, Hamzo advised Baxter International when it separated its biopharmaceutical business from its medical products business to create Baxalta Incorporated. She is highly involved in a variety of community initiatives. She leads the Baker McKenzie Canadian team on establishing Women for Women International Canada, an organization that offers support, tools and access to life-changing skills to women. She also contributes her time to assisting Oxfam, an organization focused on alleviating poverty, with a variety of Canadian legal issues. She started Baker McKenzie Canada's women's networking initiative and continues to drive this initiative forward as Co-Chair with Stephanie Vaccari. She has focused on finding ways to enhance networking initiatives for lawyers within the firm and for clients externally.
Claire Hunter
Hunter Litigation Chambers
Vancouver

Claire Hunter has a broad civil litigation, Public and Administrative law and Appellate practice. She appears regularly as counsel at both the trial and appellate level, including all levels of court in British Columbia and the Supreme Court of Canada, and before arbitration tribunals and administrative boards. She has broad experience working on complex commercial matters, including conducting internal investigations, and has appeared before regulators in Canada, the United States and the United Kingdom. Hunter is Chair of Access Pro Bono, BC's umbrella pro bono society. She previously chaired the CBA's national Pro Bono Committee and is a Member of the Law Society of BC's Access to Legal Services Advisory Committee. She often acts as counsel pro bono, representing low-income clients in asylum, housing, benefits and family law matters as well as acting on important public law appeals.
Jessica Kearsey
Toronto

Jessica Kearsey is a labour arbitration practitioner in public-sector labour arbitration, particularly in police and health-care labour relations. She has provided her strategic advice and her problem-solving skills in developing strong union management relationships. She has been involved, either leading or supporting, local interest arbitration in multiple sectors. And Kearsey has participated as adjunct faculty at Osgoode Hall (Labour Arbitration). She coaches competitive mooters and in particular was a mentor to the MDC Moot team at Osgoode Hall Law School.
Rebecca Kennedy
Thornton Grout Finnigan LLP
Toronto

Rebecca Kennedy is a partner at Thornton Grout Finnigan, advising clients on bankruptcy, insolvency and corporate restructuring matters. She has represented lenders, debtors, receivers, trustees, inspectors, court-appointed monitors and DIP financiers in regional, national and cross-border insolvencies. Kennedy became a partner at TGF in 2017. Her notable work includes acting for the Trustees of the UK Pension Plan and the UK Pension Protection Fund in pursuing a $3-billion claim in the global restructuring proceedings of Nortel Networks and its subsidiaries, and in the allocation of its global proceeds of sale. Through this mandate, Kennedy deposed witnesses around the world and actively participated in the first ever cross-border insolvency trial in Toronto and Delaware. Rebecca is a Co-Chair of the Association for Corporate Growth's Young Professional Program, and was a panelist on Developments in Insolvency Law at the Insolvency Institute (OBA).
Jean-Claude Killey
Paliare Roland Rosenberg Rothstein LLP
Toronto

Jean-Claude Killey is a partner at Paliare Roland Rosenberg Rothstein LLP, practising litigation and arbitration. Among his cases, he acted for Cogeco Data Services Inc. in its successful defence of a specific performance claim relating to a massive network-building project, at both the arbitration and appeal levels (
TDSB et al. v. Cogeco
, 2017 ONSC 3718). His nominator, Robert Centa, writes: "He has extensive experience acting in departing-lawyer matters and law firm break-ups. His success in these matters can be measured by the notable absence of reported decisions: his reported cases show his ability to persuade clients to take positions that will prevail in court, but he is also an able negotiator with success in resolving cases outside of court." He is a Director of Homes First, a charity that owns and/or manages 16 properties in Toronto providing housing and support services to Toronto's most difficult to house population.
Miranda Lam
McCarthy Tétrault LLP
Vancouver

Miranda Lam is a partner in McCarthy Tetrault's Litigation Group in Vancouver. She practises in the areas of business disputes, including contractual claims and economic torts, and her areas of specialization include securities litigation, shareholder remedies, corporate governance issues, and internal investigations, as well as internet and e-commerce issues and defamation. She has successfully appeared as counsel in the superior and appeal courts of BC and Ontario and the Supreme Court of Canada, as well as represented clients in various commercial arbitration proceedings and class action proceedings. She currently serves on the Board of the Vancouver Foundation, and is past Chair of the Board of Directors for the University of British Columbia Alumni Association (UBCAA). When she was Chair of UBCAA, she chaired numerous committees, including the Chancellor Nomination Committee as well as the UBC Alumni Achievement Awards. She is also on the Boards of United Way of the Lower Mainland and Imagine Canada. She helped organize The Advocates' Society's inaugural sold out women in litigation Meet & Mentor event in BC in June 2017.
Michelle D. MacGillivray
Miller Thomson LLP
Toronto

Michelle MacGillivray is a labour and employment lawyer advising federally and provincially regulated employers in the public and private sectors on a broad spectrum of labour, employment and human-rights matters. MacGillivray also regularly represents employers before arbitrators, mediators, administrative tribunals and courts, and advises on issues arising from corporate reorganizations, restructurings, and mergers and acquisitions. MacGillivray is a member of the Human Resources Professionals Association of Ontario, the Canadian Association of Counsel to Employers, and the Society for Human Resources Management. She writes extensively, having been invited to contribute to an authoritative text for US practitioners on Canadian Labour and Employment Law and, most recently, with respect to emerging issues such as the
Police Record Checks Reform Act
and its implications for employers in the education, not-for-profit and property-management fields, among others.
Martha Martindale
Osler, Hoskin & Harcourt LLP
Vancouver

Martha Martindale is a partner in the Financial Services Group at Osler, Hoskin & Harcourt LLP. She joined Osler in October 2016 and in that short time has participated in significant transactions and the growth of the firm's Vancouver office. In addition to speaking and writing papers about the
Personal Property Security Act
(PPSA), she teaches a Bar admission course on the PPSA and is a former President of the Canadian Bar Association's Banking Subsection. Martindale is active in the Women Lawyers Forum Mentoring Program. She is currently Treasurer and a Director (2014 to present) of The Arbutus Club. She sat on the Board of the Big Sisters of the BC Lower Mainland from December 2012 to April 2015 and has acted as a judging panelist for the Association of Women in Finance PEAK Awards.
Frank Mathieu
Stikeman Elliott LLP
Montréal

Frank Mathieu is a partner at Stikeman Elliott LLP where he is a member of the firm's Tax Group. His expertise extends from the tax aspects of M&A to corporate reorganizations and restructurings and complex financings. He has extensive expertise in advising foreign private-equity funds in relation to their Canadian investments, allowing him to leverage his strong educational background in both Canadian and American tax law. This background also allows him to design more comprehensive solutions that address the clients' Canadian tax objectives, while also being mindful of the likely US tax implications. Mathieu is the Chair of the Board of Directors of the Famijeunes Foundation. Famijeune's mission is to provide support to families in some of Montréal's poorer neighborhoods, and to equip parents to manage their households, their lives and to attain socio-economic integration.
David R. McKinnon
Bennett Jones LLP
Calgary

David R. McKinnon is a litigator at Bennett Jones LLP, focused on resolving complex commercial, energy, shareholder, franchise and IP disputes. McKinnon regularly appears as counsel before all levels of court in Alberta and in international and domestic arbitration proceedings. For example, he successfully defended a three-week trial of a $10-million copyright, breach of confidence and conversion claim by a plaintiff geophysical data company (
Geophysical Service Incorporated v. 612469 Alberta Limited (CalWest Printing & Reproductions)
,
2016 ABQB 356). The trial was heard concurrently with a common-issues trial, case-managed by the Chief Justice, involving 23 Alberta actions, 13 law firms, 37 defendants (three of whom McKinnon acts for) and claims in the hundreds of millions of dollars (
Geophysical Service Incorporated v. EnCana Corporation
, 2016 ABQB 230). The Court of Appeal agreed (2017 ABCA 125). The plaintiff has sought leave to appeal to the SCC. McKinnon is Chair of the governance committee of EducationMatters, a charitable trust that funds innovative enhancement programs to enrich the learning experiences of Calgary students. He is also on the auction committee of UNICEF Water for Life, the third-largest North American fundraiser to provide life-saving clean, safe drinking water and sanitation to children.
Ryan Morris
Blake, Cassels & Graydon LLP
Toronto

Ryan Morris is a litigator at Blake, Cassels & Graydon LLP. Currently he is the lead counsel defending six class actions in Ontario. He serves as a mentor to law students at the University of Toronto and teaches the Intensive Trial Advocacy Workshop at Osgoode Hall Law School. He is involved with The Advocates' Society, having been on its Young Advocates' Standing Committee and Conduct and Practices Committee. He is also a regular speaker and panelist at The Advocates' Society's education programs. Morris represented the late artist Haydn Davies pro bono, suing Lambton College for breach of moral rights for the destruction of Davies' sculpture installation entitled
Homage
. The case garnered significant press, resulted in the endowment of the Haydn Davies scholarship at OCAD University, and was the subject of a play (also called
Homage
) that was presented at Toronto's Luminato Festival.
Ramneek Padda
TELUS Communications Inc.
Burnaby, BC

Ramneek Padda
is Senior Litigation Counsel, TELUS Communications Inc. Among his complex cases: He was instructing counsel for Telus in a highly complex patent litigation action relating to Telus's Optik TV™ IPTV system. He led external counsel's response and was instrumental in developing complex legal arguments and complex factual and expert evidence. He is also instructing counsel for Telus in a multi-faceted commercial litigation and insolvency matter involving an internet services provider. Padda has been active with the United Way of the Lower Mainland, working both within and outside of Telus. He has been a key member of Telus Legal Services' United Way Workplace Campaign Committee which was nominated for a United Way Spirit Award (2017).
François Paradis
Osler, Hoskin & Harcourt LLP
Montréal

François Paradis is a partner in the Business Law Department at Osler, Hoskin & Harcourt LLP. He has been lead partner on several public offerings and private placements, M&A, reorganizations and dealer/adviser registrations. Paradis is on the AMF's Securities Law Advisory Committee, providing input on policy initiatives; at the annual Tremblant securities conference (where Québec's securities lawyers discuss current issues); on the Québec Bourse (Québec issuers organization). He is a mentor under the GO-CA program of the Conseil des Arts de Montréal, encouraging young professionals to sit on boards of art organizations. He also advises NGO clients on a pro bono basis (e.g., Bell Museum of Natural History, Opération Père Noël and the India School Fund); and participated in a Sahara Desert trek raising $18,000 for the Fondation Marie-Vincent (helping Québec children who are victims of sexual abuse).
Una Radoja
Harper Grey LLP
Vancouver

Una Radoja is the Co-Chair of Harper Grey's Environmental Regulation & Disputes Practice Group and a co-author of
British Columbia Environmental Management Legislation and Commentary
. Radoja has represented clients at all levels of court in BC and before the environmental regulator on files of significant complexity, including a landmark case before the Environmental Appeal Board. Most recently, she has acted in a $60-million fraud case with an international twist, a 20-day trial in a $10-million contract case, and is co-counsel on a complex, multi-million-dollar, multi-faceted contaminated site redevelopment matter. Radoja has served on the executive of the Environmental Law Subsection of the Canadian Bar Association (BC Branch) and is a frequent guest lecturer for the Pacific Business & Law Institute, British Columbia Environmental Industry Association, the Environmental Managers Association and the Continuing Legal Education Society of BC on aspects of environmental law in BC. Radoja has also made presentations to the Ministry of Environment, the environmental consulting industry and environmental insurers.
Colin Ritchie
Cenovus Energy Inc.
Calgary

Colin Ritchie is the Senior Legal Counsel at Cenovus Energy Inc., where he specializes in corporate, securities, treasury, banking and derivatives regulatory compliance (
Dodd-Frank Act
, EMIR and Canadian law) matters. As the only lawyer specializing in these areas, Ritchie single-handedly led complex legal transactions in Canada, such as funding Cenovus's $17.7-billion purchase of assets in Western Canada from ConocoPhillips. He is a member of the International Energy Credit Association (IECA) and is recognized for his expertise in derivatives regulatory compliance matters, particularly as they apply to energy companies that transact with counterparties in Europe, the United States and Canada. Ritchie was a panelist at the IECA conference in Calgary in 2014 and 2016, speaking on Implementing Multi-Jurisdictional Derivative Regulations and updating attendees on recent legal developments in this area. In addition, Ritchie was asked to speak to students at the University of Calgary Law School and share his advice about how to achieve professional and personal success as a lawyer.
Natalie Rizkalla-Kamel
Gowling WLG
Toronto

Natalie Rizkalla-Kamel is a Gowling WLG (Canada) LLP partner focusing in IP law. She has a broad range of experience in all aspects of IP litigation, with a focus on contentious work in the areas of patents, trade-marks and copyright. She is dedicated to understanding her clients' business interests and goals, developing an effective litigation strategy and advising them toward favourable outcomes in each case. In 2016, she served as co-counsel on a patent litigation team that successfully represented a patentee in a matter involving an intricate patented manufacturing procedure for polymer pipes. The case was noteworthy in Canadian patent law as it confirmed the possibility that a permanent injunction remains available in Canada, even where the patentee may not practise the patented invention in Canada. She was appointed Spring Conference Program Chair – Specialty (International) on the ABA's Continuing Legal Education Board (for the ABA-IPL Section) for 2016-2017. She is also a member of the Professional Development Committee of the CBA's Intellectual Property Section.
Frank Robinson
Cassels Brock & Blackwell LLP
Toronto

Frank Robinson is a partner in the Business Law and Franchise Law Groups of Cassels Brock & Blackwell LLP. He practises business law, with a focus on franchising, licensing, distribution and intellectual property. Robinson also provides counsel on M&A and general corporate, commercial and contractual matters. He has acted for well-known franchising companies in the market, including Dairy Queen, Wendy's, Burger King, Tim Hortons, Little Caesars, Canadian Tire, Pandora Jewelry, Dwyer Group, Boston Pizza and others. He has a proven range of experience, acting as franchise counsel to Starwood Hotels; Holiday Inn; Hyatt; Marriott; a global oil & gas company in its Canadian expansion; Circle K; 7-Eleven; Toyota; Isuzu; and Suzuki. In 2016, Robinson co-chaired the Canadian Franchise Association's Law Day. He is the co-editor of the
International Journal of Franchising Law
.
Bo Rothstein
Farris, Vaughan, Wills & Murphy LLP
Vancouver

Bo Rothstein practises M&A, securities, banking and corporate commercial law. Rothstein's experience includes acting as the lead counsel on several acquisition and sale transactions, public and private company financings and strategic alliances. In addition, Rothstein has assisted senior counsel at the firm on some of British Columbia's most significant hostile takeover bids and negotiated transactions. In addition to this transactional work, Rothstein regularly negotiates and drafts commercial agreements, shareholder rights plans (aka, "poison pills") and continuous disclosure documents for public companies. Rothstein also advises in the areas of corporate governance and compliance in relation to the
Competition Act
and
Investment Canada Act
. Rothstein is a Member of the Board of Directors of the Vancouver Talmud Torah school, where he also serves as the Corporate Secretary. He is a past Member of the Senior Advisory Council of Canuck Place Children's Hospice, which is a hospice for terminally ill children in British Columbia.
Shara N. Roy
Lenczner Slaght Royce Smith Griffin LLP
Toronto

Shara Roy's practice encompasses complex commercial, securities and administrative litigation. Her areas of expertise include securities regulatory actions, shareholder disputes, oppression remedy claims, restructuring and insolvency, trade and cross-border litigation, commercial arbitration and class actions. She regularly appears before all levels of court in Ontario, along with a wide range of administrative tribunals. Roy also acts as counsel in regulatory investigations by and proceedings before the Ontario Securities Commission. She has an active alternative dispute resolution practice, including privately arbitrated matters. In 2017, Roy co-chaired an event raising $21,000 to support the Women's Legal Education and Action Fund, and she is Deputy Chair of Malachy's Soiree, a benefit for the neo-natal intensive care unit at St. Michael's Hospital, with the goal of raising $1.5 million by 2020. She is a mentor to students and young lawyers, sits on an advisory panel for the Ontario Securities Commission and is an active member of the United Way.
Chris Scherman
Pembina Pipeline Corporation
Calgary

Chris Scherman is Vice President, General Counsel & Corporate Secretary at Pembina Pipeline Corporation. Since joining Pembina in 2012, Scherman has been in various legal and business development roles. Most recently he was responsible for business development and commercial operations for Pembina's gas gathering and processing business. In this role, Scherman had oversight over a team of managers, representatives and analysts that came together to negotiate and execute agreements to underpin significant growth in this business line, including on the construction of the $85-million Musreau 3 gas plant and the construction of the $70-million Resthaven gas plant expansion. He served on the board of Petroleum Joint Venture Association (PJVA) and chaired the PJVA Strategic Advisory group from 2015 to July 2017. He has volunteered with Pembina's United Way committee, the Calgary Stampede and the True Patriot Love Calgary tribute dinner.
Deandra L. Schubert
McCarthy Tétrault LLP
Toronto

Deandra Schubert is a lawyer in McCarthy Tétrault LLP's Business Law Group in Toronto. Her practice focuses on public and private M&A, corporate finance (equity and debt), corporate governance and shareholder activism and general corporate matters. Schubert has had several key roles on a range of market-leading transactions. She recently led the Jamieson Wellness Inc. IPO (which raised approximately $345 million). And she quarterbacked the Fairfax Africa Holdings Corporation IPO. At one point, she was seconded to Fairfax Financial Holdings where she led, from an in-house legal perspective, the $1-billion IPO of Fairfax India on the TSX. Schubert is the first chair of the organizing committee for the Toronto Board of Trade Young Professionals Network, which grew in its first year to a network of 700 professionals and now, in its second year, is at over 1,200 young professionals.
Daniel Shapira
Wildeboer Dellelce LLP
Toronto

Daniel Shapira handles a wide variety of commercial real estate projects, from beginning to end, in all areas of commercial real estate, including acquisitions, dispositions, joint ventures, property development, commercial leasing and financings. Representing both private and public-sector interests, Shapira's clients include some of the nation's largest developers, owners and managers, contractors, consortiums, international family offices, leading financial institutions, investment dealers and intermediaries, governments, government agencies and Crown corporations. At Mount Sinai Hospital in Toronto, Shapira has been a Governor and a Member of Leadership Sinai and the Venture Sinai Program since 2004. He has been a Committee Member for the real estate industry's Hold'em For Life Charity Challenge since 2013.
Aaron E. Sonshine
Bennett Jones LLP
Toronto

Aaron practices corporate and securities law with particular emphasis on corporate finance, M&A, private equity and corporate governance matters. He was one of the founding members of Bennett Jones' cannabis practice in early 2014, and he has done a significant amount of work in the mining, power and utilities, tech and biotech sectors, among others. Aaron is active with the UJA Federation of Greater Toronto and other charitable organizations in his personal time, and he does a great deal of mentoring at Bennett Jones, recently joining the firm's associate review committee.
P.L. (Lonny) Tetley
Burnet, Duckworth & Palmer LLP
Calgary

Lonny Tetley is a securities and M&A partner at Burnet, Duckworth & Palmer LLP. Tetley is an active member of the University of Calgary Dinos Hockey alumni, which raises funding for the hockey and educational programs of his alma mater. He is very active in the community, with some of his recent charitable fundraising efforts being focused on the Calgary Police Foundation, Ronald McDonald House, the Alberta Children's Hospital, the Special Olympics, Operation Christmas Child and multiple cancer charities. He also mentors U of C graduates, providing pro bono business and legal services to start-up businesses. His nominator wrote: "He has consistently demonstrated the ability to foster new relationships and generate new and continuous work through his legal knowledge, superior and timely service, business sense and strong and lasting business and personal relationships."
John Uhren
BMO Capital Markets
Toronto

John Uhren is Senior Counsel and Director of the Legal, Corporate and Compliance Group within BMO Capital Markets Legal. He provides legal and advisory support to Global Structured Products (GSP), including through structuring and documenting a variety of investment solutions to retail, institutional and private-wealth clients. He played a key role in creating and manufacturing BMO's recently launched Environmental, Social and Governance (ESG) Low Volatility Index Linked Principal Protected Note (ESG Note). The ESG Note was BMO Capital Markets' first ever ESG-themed product and the first principal-protected note linked to an ESG-themed index in Canadian history. Uhren and a colleague recently organized a power of attorney clinic in partnership with Pro Bono Ontario, which is providing powers of attorney for 19 patients from Princess Margaret Cancer Centre.
John A.D. Vellone
Borden Ladner Gervais LLP
Toronto

John Vellone practises corporate/commercial and regulatory law with a focus on energy law and matters relating to the Ontario electricity sector. He specializes in the corporate/commercial and regulatory components of electricity markets and infrastructure revitalization. He advises the senior management teams of more than 25 local distribution utilities across Ontario on such matters, including representing them in hearings before the Ontario Energy Board (OEB). He also advises clients on negotiations and disputes with Ontario's major transmitter. Vellone is a Member of the Board of ZooShare Biogas Co-operative Inc., which is developing a 500kW biogas electricity generation facility at the Toronto Zoo. He is a Board Member of the Alpine Club of Canada (Toronto Section) and a volunteer for the Ontario Access Coalition. He also finds time to mentor BLG students and associates.
Yola S. Ventresca
Lerners LLP
London, Ont.

Yola Ventresca has a broad litigation practice at Lerners LLP in London, Ontario, focused on three areas. She acts on medical defence cases, where she assists regulated health professionals in resolving a variety of issues with their regulators and in defending against civil actions. She acts in complex areas here, including sexual abuse, compromised infant cases and privacy breaches. She is one of two partners at Lerners appointed to a small group to advise on medical assistance in dying. She also acts on administrative/labour law matters and on plaintiff class actions. She is the Chair of the St. Joseph's Hospice Handbags for Hospice Committee. She leads Lerners' Shoebox Project for Shelters effort and is a Board Member of the McCormick Care Group, which is dedicated to dementia care. She is also a Member of the Children's Health Foundation Magical Winter Ball Committee.
Mark Wiseman
Sobeys Inc.
Stellarton, Nova Scotia

Mark Wiseman is Director, Legal Services at Sobeys Inc. He participated in the company's acquisition of Canada Safeway (the largest retail acquisition in Canada at the time) and was a key leader in the necessary and highly complex real estate due diligence work. He also played a key role in Sobeys' 2015 acquisition of COOP Atlantic. In addition, Wiseman has handled a wide range of complex files, which include pharmacy, fuel and all areas of the business. Wiseman has a particular focus on Environmental Law. He is very involved in his community, including in an effort to sponsor and resettle three Syrian refugee families in Pictou County. From 2012 until its strategic amalgamation into a provincial entity in 2016, Wiseman was a Board Member and Vice-President of the Pictou County Early Intervention program.
Jack Yong
Lawson Lundell LLP
Vancouver

Jack Yong is a partner and leader of the China Initiative with Lawson Lundell's Vancouver office, practising corporate and commercial law and providing clients with strategic counsel in diverse areas of business law. He has assisted Chinese clients in acquiring or investing in major commercial real estate properties. Balancing particular needs and concerns of Chinese clients against Canadian market realities and the demands of institutional counterparties, he is able to use his cultural aptitude in both markets to help move deals forward. Yong's community activities include being a Board Member of the Vancouver Asian Film Festival and being a Member on the Board of Advisors of Educating Girls of Rural China (EGRC), which is dedicated to providing high school and university education to impoverished young women from rural regions of Western China through financial sponsorship, personal support and mentorship.