Policy, politics and pot are inextricably intertwined. While battles rage in the courts (and the court of public opinion) about the merits of decriminalizing recreational marijuana, some difficult ethical questions for lawyers are stumping experts.

The upcoming US Supreme Court case Nebraska and Oklahoma v. Colorado is more like an exam question about US constitutional law than it is about marijuana. Under the federal Controlled Substances Act, pot is a Schedule 1 drug, which makes it a crime to possess, distribute or manufacture. The Act also criminalizes the ownership, lease, use or maintenance of any property for the purpose of manufacturing or distributing a Schedule 1 drug, and deems all money generated from the enterprise forfeitable to the federal government. Along comes the State of Colorado in December 2012 with Amendment 64, which as the Colorado Bar Association Ethics Committee notes, "generally permits and regulates the personal use of marijuana in the same way that the personal use of alcohol is permitted and regulated ..."

This is where the lawyers come in. Under the version of the American Bar Association Model Rules of Professional Conduct adopted in Colorado, Rule 1.2(d) requires that "a lawyer shall not counsel a client to engage, or assist a client, in conduct that the lawyer knows is criminal." Here's another exam question, this time in ethics: the state permits recreational pot, the feds criminalize it, and you've been asked by a dispensary in Colorado to advise on the tax consequences of a particular corporate structure. Discuss.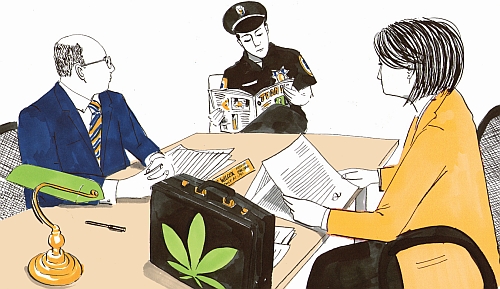 After a lot of back and forth, on March 24, 2014, the Colorado Supreme Court added a Comment to Rule 1.2 permitting lawyers to advise marijuana businesses that operate under the authority of the Colorado constitutional amendment. But, the Comment notes, "the lawyer shall also advise the client regarding related federal law and policy."

And a valuable business it is: the Washington Post reports that pot in Colorado was worth $700 million in revenue last year, with $63 million in taxes attributable to pot.

Thus far the feds haven't prosecuted. A head-splitting Department of Justice directive in late August 2013 signalled that, as long as Colorado authorities regulated the industry, federal prosecutors would merely keep a watchful eye. But the ethical questions remain: Bar associations in Maine and Connecticut have opined that legal assistance to pot businesses is prohibited; Arizona, Colorado, New York and Washington State opinions have said it was permitted.

A similar battle between federal and provincial or municipal authorities appears to be shaping up in Canada. On June 24, Vancouver council voted to regulate marijuana dispensaries, despite then federal Health Minister Rona Ambrose's urging the city to uphold criminal law prohibitions: "Storefronts selling marijuana are illegal, and under this Conservative government will remain illegal."

Vancouver Councillors had blamed federal rules requiring patients to buy medical marijuana from licensed producers for the rise of pot dispensaries in Vancouver, from fewer than 20 in 2012 to over 94. One said that Ambrose was "completely out of touch with the realities on the ground."

The same day as the Vancouver vote, the Financial Post reported that two of Canada's largest medical marijuana firms were merging in a $58-million transaction. The deal was suggested as "the catalyst for a flurry of M&A" that would whittle down 48 Canadian companies involved in the marijuana business: "If there's any sector in Canada that could use a little push from M&A, it's this one. Stock prices have been weak, as the big share gains realized in the days after many of them went public last year have all but vaporized."

Whatever the outcome of the federal election, this remains an ethically hazy issue. More than just big business is at stake.

Paul Paton is the Wilbur Fee Bowker Professor and Dean of Law at the University of Alberta. He can be reached at [email protected].