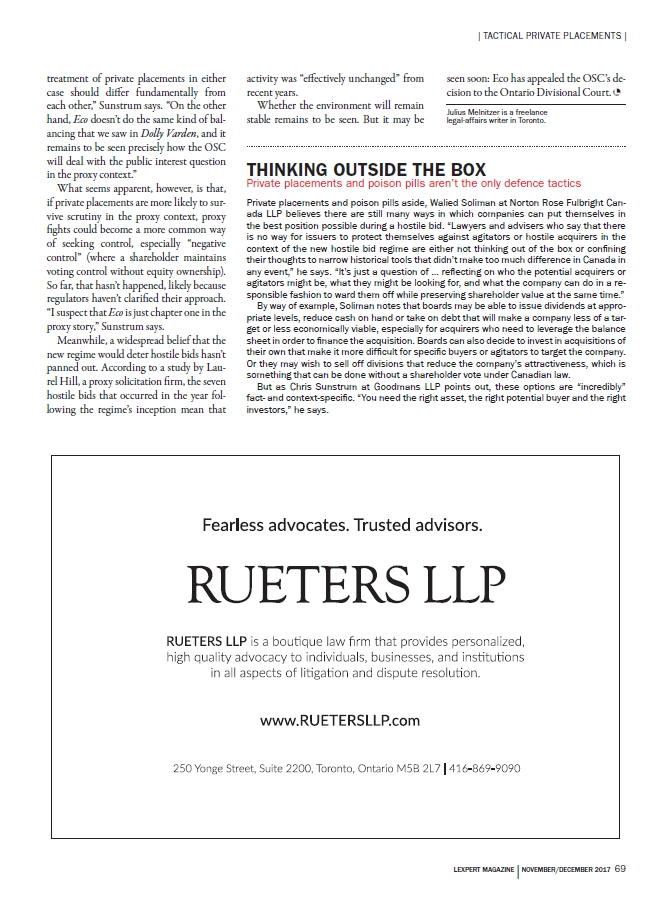 PRIVATE PLACEMENTS AND POISON PILLS aside,

Walied Soliman

at

Norton Rose Fulbright Canada LLP

believes there are still many ways in which companies can put themselves in the best position possible during a hostile bid. "Lawyers and advisers who say that there is no way for issuers to protect themselves against agitators or hostile acquirers in the context of the new hostile bid regime are either not thinking out of the box or confining their thoughts to narrow historical tools that didn't make too much difference in Canada in any event," he says. "It's just a question of … reflecting on who the potential acquirers or agitators might be, what they might be looking for, and what the company can do in a responsible fashion to ward them off while preserving shareholder value at the same time."

By way of example, Soliman notes that boards may be able to issue dividends at appropriate levels, reduce cash on hand or take on debt that will make a company less of a target or less economically viable, especially for acquirers who need to leverage the balance sheet in order to finance the acquisition. Boards can also decide to invest in acquisitions of their own that make it more difficult for specific buyers or agitators to target the company. Or they may wish to sell off divisions that reduce the company's attractiveness, which is something that can be done without a shareholder vote under Canadian law.

But as Chris Sunstrum at

Goodmans LLP

points out, these options are "incredibly" fact- and context-specific. "You need the right asset, the right potential buyer and the right
investors," he says.