The global consolidation of law firms continues, and Canadian firms are not being left behind. In the past year, there were a record 91 mergers, according to a recent report from Altman Weil. This number included several Canadian firms that merged across borders to become international. Law firm mergers have been the subject of much media coverage. At times the trend towards globalization seems inevitable. And yet there are some firms, ours included, that buck this trend by maintaining their independence.

So what does it mean to be an independent regional firm? It does not mean the firm's work is limited to a region, but rather that we are focused on a region. The reasons for maintaining this position are many: enhanced understanding of the issues faced in our markets; consistency in approach; limited bureaucracy resulting in agility; the ability to contain costs for clients; and a streamlined approach to potential conflicts. Many clients also believe that diversifying their legal service providers across jurisdictions can increase the quality of services provided, at market costs for each jurisdiction and not at the highest common rates.

Understanding the Market

Focusing efforts geographically in western and northern Canada makes it easier to align our partners' approach to issues. At independent regional firms like ours, the views of partners still matter and are highly valued. This focus enhances the creation of business strategies and ensures that growth is achieved at a sustainable rate. We have, for example, chosen to expand our Calgary office despite the market downturn. Focusing on client needs and carving out and maintaining a market position by ensuring the firm possesses the skills and expertise to serve and expand the client base are of overriding importance to a regional focus.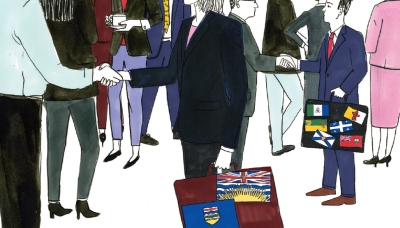 Focus on Agility


A recent study by Gulland Padfield found that most law firms merge for defensive rather than strategic reasons, and that the decisions to merge were not driven by client needs. Working closely with core clients and expanding market share in a sustainable way ensures longevity and stability. In our case, we've focused on taking care of our business at home ahead of expanding, and on ensuring we have the infrastructure to support expansion efforts. We've done so by maintaining a streamlined management structure, by fostering teamwork and by ensuring we have a careful succession plan in place.

We have chosen a size and expansion rate that works for us and our clients. Having a management team that includes members of each of our offices and that has the ability to make decisions quickly is one of the advantages of a geographically focused approach.

Minimizing Conflicts

One of the biggest advantages of a geographically focused firm is the reduced potential for conflicts. International firms with hundreds, or even thousands, of lawyers will be more likely to encounter legal and business conflicts, which will test loyalties to clients and raise concerns about the protection of confidential information. Post-merger, the sheer number of lawyers working at some of these firms means that conflicts are more likely, and that identifying and vetting these conflicts have the potential to be thorny. At our firm, we have a sophisticated process that can identify any potential conflict easily, and we can often resolve any conflict expeditiously and to the satisfaction of all parties involved.

This is not to say that law firm mergers in this country have not been effective, or that there is no place for larger international firms. But there are multiple law firm models, including the regional platform, with advantages particular to each.


Clifford Proudfoot is the Managing Partner at Lawson Lundell LLP. He can be reached at

[email protected]

.