ONE WEDNESDAY MORNING A MONTH, there is a dragon's den in Montréal. Don't expect to see CBC's Michele Romanow or Jim Treliving listening to pitches about new men's underwear or dog biscuits. What you can expect is 60 to 70 angel investors listening to six or seven high-tech start-ups pitching for funding.

If you ever doubted the importance of Canada's high-tech sector to the larger economy, now is the time to stop and ask why. "I'll let you in on a statistic," says George Takach, a senior partner at McCarthy Tétrault LLP, which sponsors the monthly Montréal pitchfest. "A third of the GDP growth in Sweden today comes from tech — and by tech I include the internet and e-commerce and all that sort of stuff. The British are at 24 per cent. Canada — wait for it — is at 10 per cent. If we could, frankly, just close the gap between ourselves and England, there'd be far less unemployment and higher wages, because tech jobs pay good wages."

A vibrant tech sector, needless to say, is also a vital component to legal services. Without start-up funding, you don't get the iconic Canadian innovators — Nortel, BlackBerry, Open Text — that lead to all manner of legal opportunities, both for in-house and external lawyers. No start-up funding means no IPOs, no patent work, no tech-savvy legal departments. So, if tech is so instrumental to a well-functioning economy, why does it contribute so little to GDP?

Canada's high-tech community is "under-acknowledged," says Karam Bayrakal, a partner at Fasken Martineau DuMoulin LLP in Vancouver. He equates under-acknowledged with under-supported because as a national strategy, "it hasn't been the focus of any particular government, and I think that's one of the things you need in innovation. If you're going to be in the innovation economy or high-tech economy, you need to have a national federal government policy that promotes innovation as a set of core principles."

Everyone agrees that innovation is great and we need more of it — but it takes serious money to take an early-stage company with $4 million or $5 million in revenue and transform it into a company with $100 million in revenue.

In Canada, "there's a real challenge in getting to that next phase," says Bayrakal. "I think part of it is, here it's all a network of 'who do you know, how do you know them, and what do they know about any particular area?'"

In contrast, he says, Silicon Valley's tech investors are generally more alive to the potential of young Canadian companies. In the past few years, Canadian start-ups have seen a lot more funding from the US and countries outside Canada than from inside the country, and in larger amounts. A-round or B-round financings may involve as much as $35 million, if that's what's needed to get a company up to the level where it can compete internationally.

"I don't know why there isn't more money interested in it in Canada," says Bayrakal. "I suppose it goes back to the 2001 crash and then a focus that was on resource extraction, not technology." It also has to do with profile and visibility, he suggests, saying there's a fairly long history of companies in Canada that have done very well but kept quiet about it. "Here in Vancouver, for example, ECL [Computing] is an audit software used by Fortune 500 companies around the world. They've been incredibly successful but it's been very quiet." He also names Global Relay, a market leader in compliance messaging, archiving and message management, as another.

Bayrakal says he was heartened to see Prime Minister Justin Trudeau talking up Canada with some of the world's biggest technology moguls at the secretive Sun Valley conference this summer. Microsoft founder Bill Gates, investment guru Warren Buffett, Facebook's Mark Zuckerberg and Amazon's Jeff Bezos were reportedly in attendance, along with Sony CEO Kazuo Hirai, Apple's Tim Cook and a host of other global business elite.

That kind of promotion of Canada to those types of CEOs is essential to profile-building, Bayrakal says, because "I don't think Canada has been recognized as being a really strong technology player … but generally, the technology that comes out of Canada is excellent."

How important is Canada's high-tech economy to the larger Canadian economy? "I don't know the exact figures and dollars, but if you took Silicon Valley alone it turns into something like the 10th or 20th largest economy in the work. Think of it. That's not all California, it's just in that 100 square miles."

***

The tech enthusiasm of Prime Minister Trudeau — himself, to some extent, a member of the social media generation — is giving some lawyers who work in the area hope that he's going to provide the sector with a boost. When he was on the campaign trail, for example, he pledged that, if elected, the Liberals would invest $200 million per year for the next three years in a "new innovation agenda" linking tech start-ups, government and academic institutions in order to promote Canadian innovation on a global scale.

And since being elected to office, Navdeep Bains, the new Minister of Innovation, Science and Economic Development, has been travelling across the country announcing investments in individual companies, incubators and tech hubs. "Trudeau gets it," says Takach at McCarthy, himself a former candidate for leader of the Liberal Party, which he lost to the current prime minister.

"Instead of rushing something through for the budget we had a few months ago, he and Navdeep Bains are working on what I believe to be a very important agenda they're going to unveil in the next budget next spring. Finally, we'll get the public policy piece we've been waiting for almost a decade while the prior government totally focused on natural resources."

It's not like Canada is going to stop developing natural resources, but even that work can get triple-charged by cheaper and cleaner new extractive technologies. Takach — who helped birth Canadian tech legends like Constellation Software and Kobo Inc. — is jazzed by the potential, saying he has similarly promising early-stage tech clients in his stable. One, which develops hardware, was just about to sign "a very interesting agreement with worldwide players" in late summer. The technology is developed right here, "under our noses, and we're going to bring it to market." The trick now, he says, is to have 30, 40 or 50 great examples, not just a handful.

When Takach is asked about the areas he feels are the most likely to produce those success stories, he says financial technology, or fintech, is very hot — and particularly in Toronto where the bulk of the country's financial-services work.

"All the big banks get it. At RBC, Dave McKay, the fairly new CEO, is a Waterloo grad, and that helps. Scotiabank just announced a major investment in technology and has brought someone on their board who is Canadian with experience in Silicon Valley. The big banks are really going to be in the thick of things in terms of technology going forward."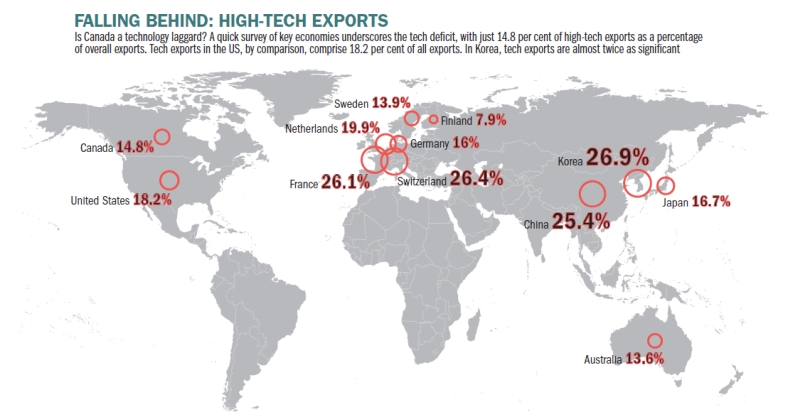 Takach says the auto industry — where technology is challenging the very notion of what a car is — is also blisteringly hot. "You're going from a mechanical, physical vehicle to, essentially, a computer on wheels. There's so much software in cars doing sensing, monitoring and management of your engine. Then, layered on top of that, is the networking features all getting connected.

"Again, the auto industry is working through a whole host of legal and commercial issues where you move from a stand-alone physical car to an interconnected network. It's a fascinating transition as the digital wave hits yet another industry."

If you need proof, he says, just look at the fact that Prime Minister Trudeau and Ontario Premier Kathleen Wynne were at a General Motors event this summer — not lining up for a photo op next to a new assembly line, but for the announcement of more than 700 technical jobs to help GM develop driverless cars for the global market.

Mark Reuss, GM's Executive VP of Global Product Development, said in a statement that the automaker selected Canada "because of its clear capacity for innovation, proven talent and strong ecosystem of great universities, startups and innovative suppliers." While GM is recruiting in Canada, the company made clear it is also actively recruiting in Silicon Valley.

The whole exercise, while it might prove a one-off, suggests a high-tech revolution might help do something no other recent business trend has been able to accomplish. It can help stem or, as in cases like GM, actually reverse the brain drain south.

***

If you want to talk about the potential of the high-tech economy, look no further than the marriage of big business with tech incubators that could produce the next generation of transformative start-ups.

"If you look at places like Communitech out of Waterloo, or MaRS out of Toronto, some of their biggest recent supporters are industry," says Deborah Weinstein of LaBarge Weinstein LLP in Ottawa. "So, for example, at Communitech in Waterloo, Canadian Tire is a very large sponsor because they're looking for innovative ideas that can help them with their products."

In Toronto, MaRS recently was part of a deal with Johnson & Johnson to develop health-care solutions. The project is a collaboration between Johnson & Johnson Innovation LLC, the University of Toronto, MaRS Discovery District, Janssen Inc. and the government of Ontario in partnership with the University Health Network, St. Michael's Hospital, The Hospital for Sick Children, Sinai Health System, Sunnybrook Health Sciences Centre, and the Centre for Addiction and Mental Health.

Together, they set up a life-sciences incubator that can accommodate up to 50 start-ups. "What we're seeing is non-traditional, large companies come into and become part of the tech world and part of the knowledge-based community from the ground up," says Weinstein, who, like Takach, says fintech is one of the areas providing great opportunities for Canadian entrepreneurs to show their smarts.

These days, the financial institutions are not just having to compete with Apple on Apple Pay; they're also having to compete with online services that will lend young adults $35,000 or $40,000 in 10 minutes, she says. "We took on a company called Mogo. If you can lend a young person that has a good job a loan online, that's one less opportunity for a bank to land that client for a lifetime."

An entire sub-area of fintech is devoted to online investment-advisory services, she says — technology that analyzes your assets, income, goals and risk and "up comes a scorecard of how you should invest. Then they'll provide you the advice and roll you into income funds, ETFs, very conservative funds or aggressive ones that match your goals — and that's taking lots of money away from financial planners and stockbrokers." But even those kinds of start-ups are facing challenges in getting the financial support from within Canada to move from early stage onto the global stage.

Sunny days, as Prime Minister Trudeau famously said after being elected. But as everyone knows, the sun casts shadows. Weinstein knows that as well as anyone. "I'm one of the advisors who gutted the tech sector in Canada. I've helped sell over 170 tech companies over the last 20 or so years," she says. Mostly, to Americans.

***

Lisa Abe-Oldenburg, a principal at Technology Law Firm (TLF) in Toronto, estimates that over 50 per cent of her tech company start-ups ended up in the US. "We're great at incubators. We're really good at putting out these babies here in Canada, but once they grow up, they go where the opportunities are."

You can't blame them. "If you're an innovative company growing at a very rapid pace, you need cash flow and you have to have funding for that. You're not going to get it here from the banks or traditional lenders. The government programs have very small thresholds for lender amount." When they can't get Canadian financing, "I feel frustrated for them. It slows them down and makes things more challenging for them."

But Abe-Oldenburg is not all gloom and doom. She, like most tech lawyers, is excited about Canadian leading innovation — in her case areas such as drones and so-called blockchain technology.

Blockchain, the technology underpinning cryptocurrencies like Bitcoin, is a collective commercial database of interactions, a continuously growing list of data records hardened against tampering and revision. Think of it as a digital ledger of individual transactions involving anything that has value — with each block containing a timestamp and information linking it to a previous block. "It's going to be a mechanism for maintaining a record for the trillions of transactions that happen every day on the internet and through electronic communications dealing with anything of value," she says.

Value could be money, it could be things like title, deeds, music, art, intellectual property, personal data, even scientific discoveries, she says. Blockchain keeps track of how things are exchanged and added to the database, what transactions happen, and also includes things called smart contracts built into the software code, which execute automatically and instantly as things are exchanged or added. So with music, for example, when you download an album or a song, it's going to have a contract built right into it to protect the song, protect the data, automatically execute a licensing agreement and pay royalties to the artist as soon as somebody downloads it. And it's going to keep a record of that and track it so it can authenticate and validate the intellectual property as well.

"This is going to transform how we do business," says Abe-Oldenburg. "It's going to transform government. It's going to transform society. It removes the intermediaries, so there won't be a need for agents or payment systems or credit services — even potentially lawyers in some cases."

***

Talk to almost any technology lawyer at a certain level and they are chock-a-block with similar stories of young Canadian clients with great ideas and successful start-ups who end up in the United States.

Money's generally not a problem at the start, says Martin Kratz, a partner at Bennett Jones LLP in Calgary. The tech start-ups may get their early friends and family rounds locally, they may get angel investors locally, and sometimes venture capital locally. But they're more likely to find the serious venture capital in the United States. "It's just that it's a bigger market and has a gravitational force that pulls you into an economy that's 10 times the size of Canada without the internal [inter-provincial] barriers to trade."

Even when US investors leave the start-ups in Canada, which may have something to do with our 70-something-cent dollar, the companies often end up drifting southward, says Kratz. "US investors tend to want to make the Canadian company look like an American company. They have access to lots more experienced tech leaders with CEO experience — especially global CEO experience — than you can find in Canada, so they're brought in, and then you find the company's centre of gravity starts to shift from Waterloo to Palo Alto, Cal." He sees investment money and culture as the culprits.

Asked about the Prime Minister's promise to "kick-start investment in innovation to grow our economy and create good, middle-class jobs," he all but snorts. "I think it's a great ambition but it's very, very hard to do because you're pushing on a rope. Canada's been described as a 'tall-poppy country' where the dominant culture is to look down on those who excel or do better. For start-ups to be successful you need an entrepreneurial culture. You can't do it by government fiat.

"Governments, at various provincial levels and at the federal level, are notoriously unsuccessful at picking winners," he says, in part because some of the primary decision-making invariably becomes politically motivated rather than being based on pure business reasons. "Money is easier to find in Silicon Valley. There really is a well-established risk-embracing investment culture where people who have success are seen as role models, and where people who fail aren't looked down on as though they did something bad. They're patted on the back and encouraged to try again. That's part of the journey."

Sunny Handa, the Montréal-based co-practice leader of the technology group at Blake, Cassels & Graydon LLP, feels much the same way about the prospect of the federal government helping grow the tech economy. "I don't hold out a lot of hope the government can do anything. I think the best thing governments can do is get out of the way. I don't view them as terribly helpful or encouraging in terms of the programs they run: they just need to let business do what business needs to do."

Handa says he has heard many governments promise the high-tech sector funding over the years, "but the truth is, I've got a lot of clients — this is all I do — and we typically don't see that money coming through. I'm sure there's money flowing somewhere to someone but, on the ground, it doesn't really trickle through. If the government wants to do something positive, they can provide tax breaks for those investing in venture businesses, but don't try to dabble by promoting certain sectors over others. Let things be.

"It's not going to be government that promotes success in this sector, it's going to be business and demands of the public and smart people with great ideas."

Handa is much more positive when it comes to that last part about smart people: "We have good infrastructure here, lots of universities and colleges and smart technical schools, so there's a lot of buzz, a lot of new companies starting that are coming up with a lot of new ideas. The problem is how do you convert those new innovative smart ideas into widespread distribution on a global level? How do you get big? How do you get noticed?"

The answer, of course, always comes back to capital. And there is much more venture capital in the United States. Takach at McCarthy Tétrault says one very concrete measure the federal government can take to help Canada's young high-tech economy is to sign the Trans-Pacific Partnership, the proposed trade agreement among 12 Pacific Rim countries.

"If you look at our engineering firms, we have great expertise and we're selling it abroad. That has to be part of this tech evolution. A lot of our manufacturing jobs have moved offshore, but as long as we get more than our fair share of tech jobs in return, then unemployment will be manageable at five, six or seven per cent."

While acknowledging there is some debate about whether Canada should ratify the treaty, which would affect different industries in different ways, he says the agreement would make it much more difficult for other governments to put up barriers to the trans-border transfer of data. "Canada is a very small country in the global scheme of things, so it's imperative our computer services, our tech suppliers, have really good access to foreign markets."

The alchemy of transforming Canada from a resource-based economy to a technology powerhouse may require more than just a policy change. A new generation of ambitious young Canadian tech entrepreneurs may have to go down into the dragon's den or across the world — or, more likely, both. But an increasing number of Canadian law firms and businesses are hoping they're up for the challenge. In fact, they're betting on it.

Sandra Rubin is a Toronto-based writer and strategic consultant.