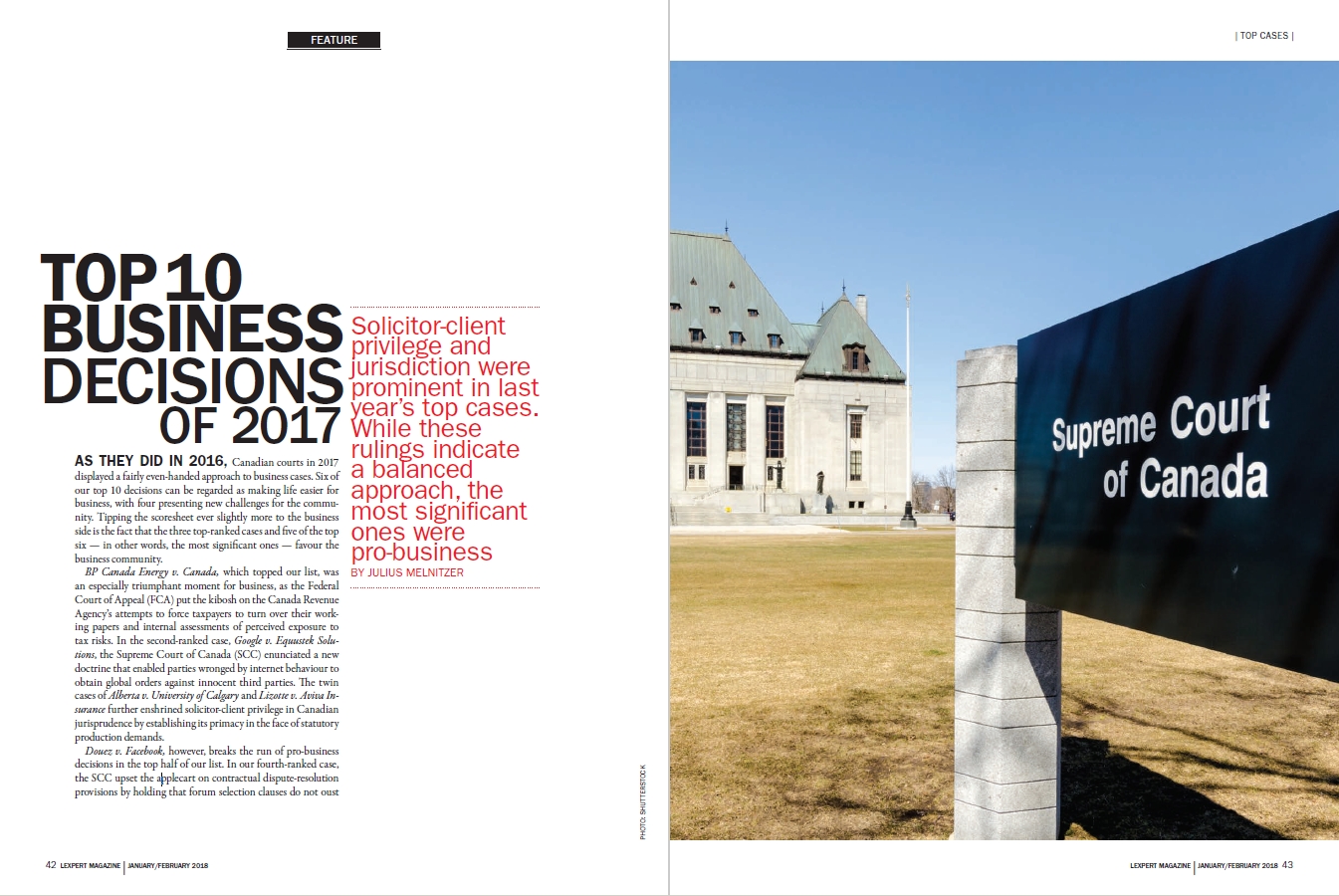 AS THEY DID IN 2016
, Canadian courts in 2017 displayed a fairly even-handed approach to business cases. Six of our top 10 decisions can be regarded as making life easier for business, with four presenting new challenges for the community. Tipping the scoresheet ever slightly more to the business side is the fact that the three top-ranked cases and five of the top six — in other words, the most significant ones — favour the business community.



BP

Canada Energy v. Canada,

which topped our list, was an especially triumphant moment for business, as the Federal Court of Appeal (FCA) put the kibosh on the Canada Revenue Agency's attempts to force taxpayers to turn over their working papers and internal assessments of perceived exposure to tax risks. In the second-ranked case, Google v. Equustek Solutions, the Supreme Court of Canada (SCC) enunciated a new doctrine that enabled parties wronged by internet behaviour to obtain global orders against innocent third parties. The twin cases of Alberta v. University of Calgary and Lizotte v. Aviva Insurance further enshrined solicitor-client privilege in Canadian jurisprudence by establishing its primacy in the face of statutory production demands.



Douez v. Facebook,

however, breaks the run of pro-business decisions in the top half of our list. In our fourth-ranked case, the SCC upset the applecart on contractual dispute-resolution provisions by holding that forum selection clauses do not oust the jurisdiction of Canadian courts to hear consumer protection cases.

Rounding off the top five is AstraZeneca Canada v. Apotex, where the SCC settled a long-running controversy in Canadian patent litigation by watering down our unique "promise of the patent" doctrine, which made a high degree of "usefulness" one of the basic requirements for the patentability of an invention. Similarly, the high court's ruling in

RBC

v. Trang provided businesses with much-needed guidance on when they could legitimately disclose personal information under federal privacy legislation.

Disappointment reigned for the business community, however, when the SCC set a high standard for taxpayers seeking rectification of their documents to avoid unintended tax consequences in the sister cases of Canada v. Fairmont Hotels and Jean Coutu Group v. Canada. Meanwhile, the Yukon Court of Appeal (YCA) shook the financial world when the court's reasons in Mulacek v. InterOil questioned the role of fairness opinions in M&A transactions.

In Yarmouth v. Nickerson, our ninth-rated case, the Nova Scotia Court of Appeal (NSCA) ruled that limitation periods set out in individual statutes could not be extended by applying the province's previous general limitations statute. In doing so, the court removed the spectre of the revival of actions long believed to be dormant and provided some guidance as to how it would interpret the current general limitations statute, which came into effect in 2015.

Certainty on the national class action scene, however, took a hit with the release of Ammazzini v. Anglo American, where the Saskatchewan Court of Appeal ruled that out-of-province representative plaintiffs had limited rights in the certification and settlement approval proceedings.

Six of our top 10 judgments emanated from the SCC, although our lead decision,

BP

Canada, came from the Federal Court of Appeal. The last three rulings on our list came from the Yukon Court of Appeal, the Nova Scotia Court of Appeal, and the Saskatchewan Court of Appeal.

From a geographical perspective, our decisions were spread fairly evenly across the country. Three cases originated in Ontario, with Alberta, BC and Quebec following with two decisions each in the top 10. Nova Scotia, Saskatchewan and the Yukon each had one. The total of 12 here arises from the fact that two sets of sister cases populated our list.

Otherwise, cases that fell just short of making the list (including some eliminated because they were under appeal at press time) were (in alphabetical order) Bristol-Myers Squibb Canada v. Teva Canada, 2017 FCA 76, in which the FCA provided much-needed certainty on the "obvious to try" test and meaning of "inventive concept" in patent litigation; the companion cases of Clyde River v. Petroleum Geo-Services, 2017 SCC 40, and Chippewas of the Thames First Nations v. Enbridge Pipelines, 2017 SCC 41, where the SCC ruled that governments could rely on regulatory processes to fulfill their duty to consult; Garcia v. Tahoe Resources, 2017 BCCA 39, where the British Columbia Court of Appeal substantially opened Canada's courts to civil claims by foreign victims of alleged human-rights abuses against Canadian corporations for acts committed abroad; Godfrey v. Sony, 2017 BCCA 302, where the BCCA made several significant rulings that set back defendants in competition class actions; and Mennillo v. Intramodal, 2016 SCC 51, where the SCC explained the operation of the oppression remedy in closely held corporations.

Also considered were Orphan Well Association v. Grant Thornton, 2017 ABCA 124, in which the Alberta Court of Appeal confirmed that bankruptcy trustees may disclaim non-producing oil wells and sell the producing ones; Renvoi relatif à la réglementation pancanadienne des valeurs mobilières, 2017 QCCA 756, in which the Québec Court of Appeal found the governance framework for the proposed co-operative capital markets regulatory regime to be unconstitutional, but also held that the Capital Markets Stability Act was substantially within federal competence; Uniprix v. Gestion Gosselin et Bérubé inc., 2017 SCC 43, in which the SCC confirmed the validity of perpetual contracts in Québec; Wilson v. Alharayeri, 2017 SCC 39, where the SCC generated guidelines governing corporate directors' personal liability under the oppression remedy; and Yaiguaje v. Chevron Corp., 2017 ONCA 827, where the Ontario Court of Appeal reversed a security for costs order against Ecuadorean plaintiffs seeking to enforce a US$9.5-billion Ecuadorean judgment against Chevron for polluting the rainforest.

Close calls aside, here are Lexpert's Top 10 business decisions in detail.


1. BP CANADA ENERGY V. CANADA, 2017 FCA 61

Corporate taxpayers breathed a collective sigh of relief when this decision put the brakes on the Canada Revenue Agency's (CRA) attempt to force taxpayers to provide the Agency with the very ammunition it needed to challenge tax returns.

The decision overturned an earlier ruling from a Federal Court judge compelling BP Canada Energy Co. to disclose the reserves it was taking for contingent liabilities. What that meant was that the company would effectively be providing the CRA with a list of soft spots in their returns and an estimate of the extra tax the company might have to pay should CRA decide to challenge the returns.

"This may be one of the most important cases in several years on the extent of the power CRA has in gathering private tax information compiled by Canadian businesses," says tax specialist William Innes of Rueters LLP in Toronto. "The Chief Justice of the Federal Court of Appeal, who is a noted tax expert, has written an intellectually compelling decision."

To comply with their reporting obligations, public companies' consolidated financial statements must calculate reserves to account for contingent tax liabilities, including an estimate of the liability the company and its subsidiaries would face if the CRA challenged uncertain positions in the tax returns. The calculations are supported by working papers that identify the issues that the company knows might be subject to challenge. These are known as "issues lists" and represent the areas at highest risk for loss of tax revenue.

Historically, CRA has not sought production of the issues lists while conducting audits of corporations. But in May 2010, the government effected a policy change requiring production of "tax accrual working papers," including those relating to reserves for contingent tax liabilities. The policy stated that these documents were "not routinely required," but that officials "may request" them.

During the course of an audit of BP Canada, the company redacted the issues lists from responses to CRA inquiries. CRA brought a motion to compel production of the redactions. There was no evidence that CRA had special concerns that led to the request: its position before the court was that it sought the issues list as a "road map" to facilitate BP Canada audits going forward. "It was pretty clear that there were no real issues on the audit, and the Agency just wanted to make things more convenient for itself," says Steve Suarez, a tax lawyer with

Borden Ladner Gervais

LLP

in Toronto.

But as Suarez points out, the court went well beyond the issues in the particular case. "The Chief Justice's reasons establish principles of general application, including the fact that self-assessment doesn't mean self-auditing and that the Income Tax Act cannot be read to say that the CRA simply gets what it wants," he says.

Counsel List


Osler, Hoskin & Harcourt LLP
(Al Meghji, Edward Rowe, Pooja Mihailovich)
For BP Canada Energy (appellant)

Office of the Deputy Attorney General of Canada
(Henry Gluch, Margaret McCabe)
For Minister of National Revenue (respondent)

Norton Rose Fulbright Canada LLP
(Dominic Belley, Jonathan Lafrance)
For Chartered Professional Accountants of Canada (intervener)


2. GOOGLE V. EQUUSTEK SOLUTIONS, 2017 SCC 34


In this landmark decision, the SCC upheld an order requiring Google to block from its worldwide search results websites that were selling equipment built on intellectual property owned by a Canadian company. The decision sends a clear message that Canadian courts are increasingly willing to ignore provincial and national borders to ensure that justice is done in the business world. It is the most expansive ruling on the scope of internet jurisdiction in the common-law world to date. Still, the case is in line with other Canadian decisions that have seized jurisdiction over entities operating in Canada, attempting to regulate not only what these entities can do in Canada, but also in the rest of the world.


Not everyone's happy about the decision, though, largely because Google was essentially an innocent third party whose singular connection to British Columbia, where the respondent Equustek Solutions was based, was that it indexed Canadian websites and advertised in the province. Observers have expressed concerns regarding adverse implications for Canadian businesses abroad and a backlash from other jurisdictions seeking to make orders that affect conduct in Canada.

What is clear is that the delicate balancing act in deciding these types of cases represents a global conundrum pitting the need to impose and enforce order on the internet, while respecting the territorial limits of courts' jurisdiction. Evidence of just how that conundrum might evolve can be found in a subsequent decision of a California court, which granted Google a preliminary injunction to block enforcement of the SCC's order in the United States.

Barry Sookman in

McCarthy Tétraul

t LLP

's office in Toronto was lead counsel for a number of interveners at the SCC. He says that "momentous consequences" could follow if Google succeeds in obtaining a permanent injunction in the US. "If Google can undermine the Canadian order, social media companies will be free to carry on their international activities with no obligation to comply with anything but local laws."

Counsel List


Lenczner Slaght Royce Smith Griffin LLP
(Marguerite Ethier, William McDowell, Scott Rollwagen) For Google Inc. (appellant)
Robert Fleming Lawyers
(Robbie Fleming) For Equustek Solutions Inc., Robert Angus, Clarma Enterprises Inc. (respondents)
Michael Sobkin For Equustek Solutions Inc., Robert Angus, Clarma Enterprises Inc. (respondents)
Jeffrey Johnston For the Attorney General of Canada (intervener)
John Corelli, Sandra Nishikawa, Brent Kettles For the Attorney General of Ontario (intervener)
Blake, Cassels & Graydon LLP
(Mathew Good, Tom Posyniak, Iris Fischer, Helen Richards, Paul Schabas, Kaley Pulfer) For Canadian Civil Liberties Association, Reporters Committee for Freedom of the Press, American Society of News Editors, Association of Alternative Newsmedia, The Center for Investigative Reporting, Dow Jones & Co., Inc., First Amendment Coalition, First Look Media Works, Inc., Human Rights Watch, ARTICLE 19, Open Net (Korea), Software Freedom Law Centre, Center for Technology and Society, New England First Amendment Coalition, News Media Alliance, AOL Inc., California Newspaper Publishers Association, The Associated Press, The Investigative Reporting Workshop at American University, Online News Association, Society of Professional Journalists (interveners) Cynthia Khoo For OpenMedia Engagement Network (intervener)
McInnes Cooper
(David Fraser, Jane O'Neill) For Wikimedia Foundation (intervener)
Stockwoods LLP
(Justin Safayeni, Carlo Di Carlo) For British Columbia Civil Liberties Association (intervener)
Fasken Martineau DuMoulin LLP
(David Wotherspoon, Daniel Byma) For Electronic Frontier Foundation (intervener)
McCarthy Tétrault LLP
(Barry Sookman, Daniel Glover, Miranda Lam) For International Confederation of Music Publishers, Worldwide Independent Network, International Federation of the Phonographic Industry, Music Canada, Canadian Publishers' Council, Association of Canadian Publishers, International Confederation of Societies of Authors and Composers (interveners)
MacKenzie Barristers PC
(Gavin MacKenzie, Brooke MacKenzie) For International Federation of Film Producers Association (intervener)
3. LIZOTTE V. AVIVA INSURANCE, 2016 SCC 52; ALBERTA V. UNIVERSITY OF CALGARY, 2016 SCC 53

Canada already affords the highest degree of protection for solicitor-client or litigation-privileged documents in the world. By affirming that the very clearest of legislative language is required to override these privileges, the Supreme Court of Canada has broadened even further the wide protection Canadian law affords them.


What stands out about these decisions is that the statutory language aimed at overriding privilege seems clear enough. Alberta's Freedom of Information and Protection of Privacy Act requires public bodies to produce documents to the Privacy Commissioner on request despite "any privilege of the law of evidence."

But according to the high court's reasons in Alberta v. University of Calgary, that phrase did not reflect a clear and unambiguous legislative intent to override solicitor-client privilege. The court emphasized that solicitor-client privilege "was fundamental to the proper functioning of our legal system and a cornerstone of access to justice."

"Given the statutory language, the court's conclusion is a striking one and shows just how specific lawmakers will have to be if they want to override the privilege," says Maureen Littlejohn in the Toronto office of

Davies Ward Phillips & Vineberg

LLP

.



Lizotte v. Aviva Insurance

took the principles laid down in the Alberta sister case one step further by extending them to litigation privilege. "That's a big step forward in this area of the law," Littlejohn says.

The case arose under Quebec's Act respecting the distribution of financial products and services (ADFPS), which states that insurers "must, at the request of [the regulator], forward any required document or information concerning the activities of a representative" to the regulator. Aviva refused to turn over certain documents that were admittedly covered by litigation privilege. The SCC ruled that the ADFPS did not "contain sufficiently clear, explicit and unequivocal language to abrogate litigation privilege."

Counsel List


Mercier Leduc s.e.n.c.r.l
. (Claude Leduc, Olivier Charbonneau-Saulnier) For Karine Lizotte, Chambre de l'assurance de dommages (appellant)
Stikeman Elliott LLP
(Eric Azran, Patrick Girard) For Aviva Insurance Co. of Canada, Traders General Insurance Co (respondent)
Osler, Hoskin & Harcourt LLP
(Mahmud Jamal, Alexandre Fallon, David Rankin) For Canadian Bar Association, Federation of Law Societies of Canada (interveners)
IMK LLP
(Douglas Mitchell, Audrey Boctor) For The Advocates' Society (intervener)
Langlois avocats s.e.n.c.r.l.
(Francois LeBel, Jean-Benoit Pouliot, Sylvie Champagne) For Barreau du Québec (intervener)
Jensen Shawa Solomon Duguid Hawkes LLP
(Glenn Solomon, Elizabeth Aspinall) For Information and Privacy Commissioner of Alberta (appellant)
DLA Piper (Canada) LLP (Robert Calvert, Michael Ford) For Board of Governors of the University of Calgary (respondent)
de Villars Jones LLP
(David Philip Jones, Victoria Jones) For Law Society of Alberta (intervener)
McCarthy Tétrault LLP
(Michael Feder, Emily MacKinnon) For British Columbia Civil Liberties Association (intervener)
Lawren Murray, David Goodis For Information and Privacy Commissioner of Ontario (intervener)
Miller Thomson LLP
(Ivan Bernardo, Jill Wilkie, Gerald Chipeur) For Information and Privacy Commissioner of British Columbia (intervener)
Lewis, Sinnott, Shortall, Hurley, Bruce
(Andrew Fitzgerald) For Information and Privacy Commissioner for the Province of Newfoundland and Labrador (intervener)
Peacock Linder & Halt
(Perry Mack) For Advocates' Society (intervener)
Dunphy Best Blocksom LLP
(Michele Hollins, James Lebo, Jason Wilkins) For Canadian Bar Association (intervener)
Sack, Goldblatt, Mitchell LLP
(Marlys Edwardh, Daniel Sheppard, Regan Morris, Diane Therrien, Aditya Ramachandran) For Privacy Commissioner of Canada, Manitoba Ombudsman, Northwest Territories Information and Privacy Commissioner, Nova Scotia Information and Privacy Commissioner, Nunavut Information and Privacy Commissioner, Saskatchewan Information and Privacy Commissioner and Yukon Ombudsman and Information and Privacy Commissioner, Information Commissioner of Canada (interveners)

Stockwoods LLP (Brian Gover, Justin Safayeni, Carlo Di Carlo) For Criminal Lawyers' Association (intervener)


4. DOUEZ V. FACEBOOK, 2017 SCC 33


The Supreme Court of Canada revived a privacy class action against Facebook brought by 1.8 million residents of British Columbia, in a decision that validated the strong public policy reasons to enforce the forum selection clause in the company's online contractual forum selection clause, which limited litigation against the social media giant to California courts.


The decision has widespread implications for the many businesses that rely heavily on internet commerce, where forum selection clauses are common. "The models that many such businesses put in place are built on dispute-resolution provisions that limit where proceedings can be instituted," says Matthew Gottlieb of

Lax O'Sullivan Lisus Gottlie

b LLP in Toronto, who appeared on behalf of the Information Technology Association of Canada, an intervener in the case. "To have the enforceability of that clause opened up creates serious concern and the prospect of real instability."

Counsel List


Branch MacMaster LLP
(Ward Branch, Christopher Rhone) For Deborah Louise Douez (appellant)
Michael Sobkin For Deborah Louise Douez (appellant)
Osler, Hoskin & Harcourt LLP
(Mark Gelowitz, David Rankin) For Facebook, Inc. (respondent)
Lerners LLP
(Cynthia Kuehl, Meredith Jones) For Canadian Civil Liberties Association (intervener)
Marina Pavlovic
For
Samuelson-Glushko Canadian Internet Policy and Public Interest Chair, University of Ottawa (intervener)
Siskinds LLP
(Paul Bates) For Samuelson-Glushko Canadian Internet Policy and Public Interest Chair, University of Ottawa (intervener)
Lax O'Sullivan Lisus Gottlieb LLP
(Matthew Gottlieb, Paul Michell, Ian Matthews) For Information Technology Association of Canada (intervener)

Bennett Jones LLP
(Derek Bell, Jason Berall) For Interactive Advertising Bureau of Canada (intervener)


5. ASTRAZENECA CANADA V. APOTEX, 2017 SCC 36


This decision (see p. 28 for a "Big Suits" summary submitted by the firms involved) deals with a controversial issue in patent law: whether the "promise of the patent" doctrine has a place in analyzing the validity of patents. The SCC's answer was an unequivocal "no." The promise doctrine, the court stated "is not the correct method of determining whether the utility requirement under s. 2 of the Patent Act is met," and concluded that "it is not good law."


Patentees, particularly pharmaceutical companies, welcomed the decision. "Numerous patentees have had their patents held invalid for lacking utility because they failed to demonstrate or soundly predict all uses that were 'promised' in the description of their application," says Scott MacKendrick, a Toronto lawyer in the Litigation practice group of

Bereskin & Par

r LLP

.

The case revolved around a product with the brand name Nexium TM. The trial judge found that AstraZeneca had soundly predicted the product to be useful as a proton pump inhibitor but invalidated it for lack of utility on the "promise" that the compounds of the invention "will give an improved therapeutic profile such as a lower degree of interindividual variation."

The SCC found that the promise doctrine was "excessively onerous" and contrary to the Patent Act as it required that all uses expressed in the patent must be satisfied in order to meet the utility requirement — this despite the fact that the Patent Act requires but a single use to make an invention useful.

Accordingly, courts determining whether the statutory utility requirement was met now have only to identify the subject-matter of the invention as claimed in the patent and then ask whether that subject matter is useful, in the sense of being capable of a practical purpose.

Counsel List


Smart & Biggar
(Gunars A. Gaikis, Yoon Kang, Y. Lynn Ing) For AstraZeneca Canada Inc., AstraZeneca Aktiebolag, AstraZeneca UK Ltd. (appellants)
Goodmans LLP
(Harry Radomski, Andrew Brodkin, Richard Naiberg, Sandon Shogilev) For Apotex Inc., Apotex Pharmachem Inc. (respondents)
Norton Rose Fulbright Canada LLP
(Patrick Kierans, Kristin Wall) For Innovative Medicines Canada, BIOTECanada (interveners)
Jeremy de Beer PC
(Jeremy de Beer, Richard Gold) For Centre for Intellectual Property Policy, McGill University (intervener)
Aitken Klee LLP
(Jonathan Stainsby, Scott Beeser) For Canadian Generic Pharmaceuticals Association (intervener)
Fasken Martineau DuMoulin LLP
(Julie DesRosiers, Kang Lee, Alain Leclerc) For Fédération internationale des conseils en propriété intellectuelle (intervener)
Torys LLP
(Andrew Bernstein, Yael Bienenstock) For Intellectual Property Owners Association (intervener)

Belmore Neidrauer LLP (Jason Markwell) For Intellectual Property Institute of Canada (intervener)


6. ROYAL BANK OF CANADA V. TRANG, 2016 SCC 50


Canadian business has finally received some guidance from the Supreme Court of Canada about when they may disclose an individual's "less sensitive" information based on "implied consent."

Royal Bank of Canada v. Trang arose when Scotiabank relied on the Personal Information Protection and Electronic Documents Act (PIPEDA) in refusing to disclose the mortgage discharge statement of Phat and Phuong Trang to the Royal Bank. RBC needed the statement because the sheriff had insisted on seeing it before executing a judgment and selling a Trang property on which Scotiabank had previously held a mortgage. The Ontario courts upheld Scotiabank's refusal, citing the absence of express consent.

But PIPEDA provides an exception to the express consent rule in the case of "less sensitive" personal information. The discharge statement, the high court ruled, fell into that category. Accordingly, the Trangs' consent should be implied, allowing Scotiabank to turn the statement over to Royal Bank of Canada.

"The court stated that the information has to be assessed in context, and that includes the reasonable expectation of the individual when they gave the information," says David Elder in

Stikeman Elliott

LLP

's Ottawa office. "The upshot is that, while sensitive information requires explicit consent, it is not an absolute rule that even financial or health information always requires such consent."

Counsel List


Blake, Cassels & Graydon LLP
(Peter Hogg, Catherine Beagan Flood, Nickolas Tzoulas (formerly), Pamela Huff) For Royal Bank of Canada (appellant)

Barbara McIsaac, Kate Wilson For Office of the Privacy Commissioner of Canada (amicus curiae)


7. JEAN COUTU GROUP V. CANADA, 2016 SCC 55; CANADA V. FAIRMONT HOTELS, 2016 SCC 56

With these decisions, the Supreme Court of Canada made it much more difficult for taxpayers who enter into agreements that have unintended tax consequences to rewrite those agreements.

So long as the documentation properly records the parties' agreement, the high court ruled, the fact that the arrangement did not achieve the intended tax-neutral effect does not of itself allow taxpayers to "rectify" the agreement so as to remedy unexpected tax liabilities.

"Rectification is not equity's version of the mulligan," wrote Justice David Brown on behalf of a 7-2 majority.

In both the civil-law and common-law systems, rectification was historically available where a written contract did not accurately reflect specific terms to which the parties had agreed. Of late, however, some judges deciding Canadian tax cases have been allowing parties to rectify where the written document correctly reflected the agreed terms but did not achieve the desired tax result.

"In these cases, rectification was granted because the agreement as recorded did not carry out the parties' continuing intention to undertake a transaction on a particular tax basis, even though it correctly recorded the legal relationships that the parties intended," says Alexander Cobb of

Osler, Hoskin & Harcour

t LLP

in Toronto.

It fell upon the SCC, then, to decide the scope of the rectification doctrine in twin cases involving Fairmont Hotels and Jean Coutu, a retail pharmacy chain. Both cases involved transactions structured to hedge the companies' exposure to exchange rates. In each instance, the transactions were intended to be tax-neutral. As it turned out, the CRA determined that they were not. Fairmont and Jean Coutu both accepted the CRA's determination, but applied to the court to rectify the transactions in a manner that would make them tax-neutral.


In Jean Coutu's case, the Québec Court of Appeal refused rectification. Here, the court found that the company's "general intention" to avoid tax was "not sufficiently determinate" to invoke the doctrine. In Fairmont's case, the Ontario Court of Appeal came to the opposite conclusion, ruling that rectification was appropriate where the parties had a "common continuing intention" to effect a transaction without attracting tax liability.


The SCC opted for the traditional view of rectification, denying the remedy in both cases. In so doing, the court overruled the broader approach and found that rectification was limited to cases where an agreement had not been recorded correctly in a written document.

Rectification, then, was available to give effect to parties' real intention by amending the written agreement, but not where the goal was to amend the agreement itself. In both the Fairmont and Jean Coutu cases, rectification was not available because the written agreement, although it did have unintended tax consequences, did in fact carry out the parties' intended transaction. The mistake, then, was not in the way that the agreements were expressed, but rather in the nature of the agreements themselves.

While rectification is still available in appropriate circumstances, the SCC has imposed a fairly high burden of proof on parties seeking the remedy. The evidence in support, the court said, must exhibit "a high degree of clarity, persuasiveness, and cogency before substituting the terms of a written instrument with those said to form the parties' true intended course of action."

Cobb maintains that the SCC's decisions are not fair to taxpayers: "The majority did not take into account the complexity of the Income Tax Act in considering when courts should allow taxpayers to correct their documentation."

Counsel List

Daniel Bourgeois, Eric Noble For Attorney General of Canada (appellant)
McCarthy Tétrault LLP
(Geoff Hall, Chia-yi Chua) For Fairmont Hotels Inc., FHIW Hotel Investments Canada Inc., FHIS Hotel Investments (Canada) Inc. (respondents)
Norton Rose Fulbright Canada LLP
(Dominic Belley, Jonathan Lafrance) For Jean Coutu Group (PJC) Inc. (appellant)

Larivière, Meunier (Pierre Zemaitis, Christian Boutin) For Agence du revenu du Québec (intervener)


8. MULACEK V. INTEROIL, 2016 YKCA 14


This decision calls into question long-standing practices regarding the role of fairness opinions in plans of arrangement. Generally speaking, there is no legal requirement in Canada for a board of directors to obtain a fairness opinion. What boards receive is a detailed financial analysis supporting the fairness opinion. Court-sanctioned practice, however, has always held that shareholders are not entitled to the details behind the opinion, but merely the conclusion.

This type of "one-line" document was what InterOil provided to its shareholders, from whom it was seeking approval for a plan of arrangement. Nonetheless, more than 80 per cent of shareholders approved the transaction.

InterOil then sought approval from the courts. Over the objections of Philippe Mulacek, a founder and former chairman of the company and holder of 5.5 per cent of its shares, the Yukon Supreme Court approved the plan.


Mulacek appealed and the Yukon Court of Appeal reversed. The tremor in the judgment that initially shook the business community was the unanimous court's suggestion that the single-line conclusion as to fairness found in the opinion did not put the shareholders in a position to "make an informed choice" about the transaction, particularly when the sole financial advisor retained by the board, Morgan Stanley, had a success fee included as a term of its engagement.


The parties tried again. The acquirer, ExxonMobil, agreed to a modest contingent increase in the purchase price. Interoil hired a second financial advisor, BMO Capital Markets, on a flat-fee basis. BMO's fairness opinion provided considerably more detail than had been common practice.


After shareholders voted in favour of the deal at a level even greater than the 80 per cent who approved the original transaction, the plan went back to the Yukon Supreme Court for consideration. Here again, an aftershock awaited the financial community.


Justice Ronald Veale approved the new iteration. But that wasn't the aftershock: that came when he suggested that an independent, fixed-fee, long-form fairness opinion and a report from the independent transaction committee "provide a minimum standard for interim orders of any plan of arrangement."

Many observers have limited the decision to cases involving the type of "red flags" that caused the appeal court to reject the transaction. These included the potential conflict created by Morgan Stanley's success fee; the passivity of the special committee overseeing the transaction; the failure to retain a second, independent advisor; the lack of information provided to shareholders; and a CEO leading the negotiations who stood to gain some $35 million in termination pay and share awards if the deal went through.

But Wendy Berman of

Cassels Brock & Blackwell

LLP

, who represented Mulacek, says that, going forward, the impact of the decisions will not be limited to this "perfect storm" of facts. "What the court of appeal was saying was that it would not regard as independent an advisor who was being paid in a way that included a success fee," she says. "Without that independent advice, the court cannot give deference to the board's work."

As for the extent of disclosure now required, Berman believes that the decisions don't set out a bright line. "What they say is that the board can't approach the issue of disclosure in a perfunctory way," she says. "Directors must ask themselves how much disclosure is necessary and the answer will vary with the nature of the deal."

Counsel List


Cassels Brock & Blackwell LLP
(Wendy Berman, Lara Jackson) For Philippe E. Mulacek (appellant)
Lamarche & Lang
(Meagan Hannam) For Philippe E. Mulacek (appellant)
Austring Fendrick & Fairman
(Gregory Fekete) For Interoil Corp. (respondent)
Goodmans LLP
(Tom Friedland, Melanie Ouanounou) For Interoil Corp. (respondent)
Macdonald & Company
(Grant Macdonald) For Exxon Mobil Corp. (respondent)

Blake, Cassels & Graydon LLP (David Tupper, Michael Dixon, Matthew Good) For Exxon Mobil corp. (respondent)



9. YARMOUTH (DISTRICT) V. NICKERSON, 2017 NSCA 21

The Nova Scotia Court of Appeal, in a ruling that may impact the province's new limitation statute, has held that the previous statute could not be used to extend a statute-specific time limit. "Previously, it was commonly believed that our general limitation statute could be used to extend specific limitation periods found in a variety of statutes," says Ian Dunbar in McInnes Cooper's Halifax office, who represented the District of Yarmouth in Yarmouth v. Nickerson. "But this decision says that's not the case, and it potentially applies to a wide range of provincial legislation

Nova Scotia's Municipal Government Act sets a six-year limit for suing municipalities. When the purchasers of a house sued the vendors for soil subsidence damage to the home, one of the vendors third-partied the District of Yarmouth, claiming negligence in issuing the building permit and in inspecting the lot and the construction.

But the third-party claim was brought more than six years after the building permit was issued. When Yarmouth moved for summary judgment, the vendor sought an extension under the Limitations of Actions Act. The trial judge granted the extension but the appeal court held that the phrase "notwithstanding the Limitations of Actions Act," found in the Municipal Act in relation to the six-year limit, precluded the granting of an extension.


Still, it's not quite clear what impact Yarmouth will have on the new general limitations statute, which came into effect in 2015. "The new law applies discoverability principles to all actions, which is something we didn't have before," says Barry Mason of Pressé Mason Barristers & Solicitors in Bedford, Nova Scotia. "It's hard to say how this decision will interact with discoverability."

Counsel List


McInnes Cooper
(Ian Dunbar, Katie Archibald) For The Municipality of the District of Yarmouth (appellant)
Presse Mason Barristers & Solicitors
(Barry Mason) For Derek Todd Nickerson, Gwen E. Nickerson (respondents)

Rubin Dexter For Robert Gordon Leggett, Patricia Rosemary Leggett (respondents)


10. AMMAZZINI V. ANGLO AMERICAN, 2016 SKCA 164


Given the general muddle surrounding national class actions in Canada, the Saskatchewan Court of Appeal judgment in Ammazzini v. Anglo American serves only to stir the pot further — and in a way that makes life harder for defendants.

The case defines the rights of an out-of-province representative plaintiff at a certification hearing in Saskatchewan. The province's Class Actions Act allows such a plaintiff to "make submissions." What this means, the appeal court said, is that an out-of-province plaintiff could make oral and written submissions and file evidence. But he could not apply for a stay of proceedings.

The issue arose when Kirk Brant, the representative plaintiff in a multi-jurisdictional Ontario proceeding, applied for an order staying the Saskatchewan action pending a certification decision in Ontario. After the judge granted the stay, the representative plaintiffs in the Saskatchewan action appealed.

Katherine Kay of

Stikeman Elliott

LLP

in Toronto, who represented Anglo American, believes that, going forward, the inability of out-of-province plaintiffs to seek a stay will impose a greater onus on defendants looking to convince Saskatchewan courts that a stay pending the resolution of class action proceedings in other provinces should be granted.

"Normally, it's the consortium of law firms representing the plaintiffs who take the lead in seeking stays pending certification or settlement approval in another jurisdiction, but now there's greater pressure on defendants to carry the ball," she says.

Sharon Matthews of Camp Fiorante Matthews Mogerman LLP in Vancouver represented Brant, along with partner Reidar Mogerman. Matthews says, "Ammazzini does make things a bit awkward, but it doesn't throw the whole process into disarray because the out-of-province representative plaintiff has the right to participate in the stay application, even if she can't make the application herself."

Counsel List


Merchant Law Group LLP
(Anthony Merchant, Iqbal Brar) For Daniel Ammazzini, Olson Goldsmiths Inc. (appellants)
Stikeman Elliott LLP (Katherine Kay, Danielle Royal) For Anglo American PLC, De Beers Canada Inc., De Beers S.A., De Beers Centenary A.G., De Beers Canada Holdings Inc., De Beers UK Ltd. (respondents)
Camp Fiorante Matthews Mogerman LLP (Sharon Matthews, Naomi Kovak) For Kirk Brant, Michelle Fairhurst, Mark Kazimirski (respondents)