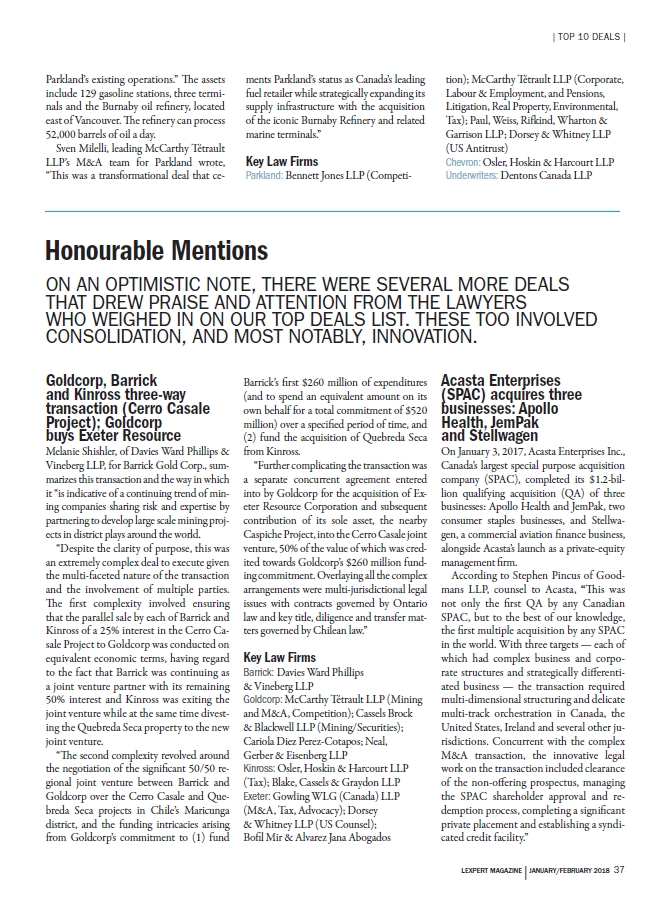 ON AN OPTIMISTIC NOTE, there were several more deals that drew praise and attention from the lawyers who weighed in on our top deals list. These too involved consolidation, and most notably, innovation.

GOLDCORP, BARRICK AND KINROSS THREE-WAY TRANSACTION (CERRO CASALE PROJECT); GOLDCORP BUYS EXETER RESOURCE


Melanie Shishler

, of Davies Ward Phillips & Vineberg LLP, for Barrick Gold Corp., summarizes this transaction and the way in which it "is indicative of a continuing trend of mining companies sharing risk and expertise by partnering to develop large scale mining projects in district plays around the world.


"Despite the clarity of purpose, this was an extremely complex deal to execute given the multi-faceted nature of the transaction and the involvement of multiple parties. The first complexity involved ensuring that the parallel sale by each of Barrick and Kinross of a 25% interest in the Cerro Casale Project to Goldcorp was conducted on equivalent economic terms, having regard to the fact that Barrick was continuing as a joint venture partner with its remaining 50% interest and Kinross was exiting the joint venture while at the same time divesting the Quebreda Seca property to the new joint venture.

"The second complexity revolved around the negotiation of the significant 50/50 regional joint venture between Barrick and Goldcorp over the Cerro Casale and Quebreda Seca projects in Chile's Maricunga district, and the funding intricacies arising from Goldcorp's commitment to (1) fund Barrick's first $260 million of expenditures (and to spend an equivalent amount on its own behalf for a total commitment of $520 million) over a specified period of time, and (2) fund the acquisition of Quebreda Seca from Kinross.

"Further complicating the transaction was a separate concurrent agreement entered into by Goldcorp for the acquisition of Exeter Resource Corporation and subsequent contribution of its sole asset, the nearby Caspiche Project, into the Cerro Casale joint venture, 50% of the value of which was credited towards Goldcorp's $260 million funding commitment. Overlaying all the complex arrangements were multi-jurisdictional legal issues with contracts governed by Ontario law and key title, diligence and transfer matters governed by Chilean law."


Key Law Firms

Barrick:
Davies Ward Phillips & Vineberg LLP
Goldcorp:
McCarthy Tétrault LLP

(Mining and M&A, Competition);

Cassels Brock & Blackwell LLP

(Mining/Securities); Cariola Diez Perez-Cotapos; Neal, Gerber & Eisenberg LLP

Kinross:
Osler, Hoskin & Harcourt LLP

(Tax);

Blake, Cassels & Graydon LLP



Exeter:
Gowling WLG (Canada) LLP

(M&A, Tax, Advocacy); Dorsey & Whitney LLP (US Counsel); Bofil Mir & Alvarez Jana Abogados



ACASTA ENTERPRISES (SPAC) ACQUIRES THREE BUSINESSES: APOLLO HEALTH, JEMPAK AND STELLWAGEN

On January 3, 2017, Acasta Enterprises Inc., Canada's largest special purpose acquisition company (SPAC), completed its $1.2-billion qualifying acquisition (QA) of three businesses: Apollo Health and JemPak, two consumer staples businesses, and Stellwagen, a commercial aviation finance business, alongside Acasta's launch as a private-equity management firm.


According to

Stephen Pincus

of

Goodmans LLP

, counsel to Acasta, "This was not only the first QA by any Canadian SPAC, but to the best of our knowledge, the first multiple acquisition by any SPAC in the world. With three targets — each of which had complex business and corporate structures and strategically differentiated business — the transaction required multi-dimensional structuring and delicate multi-track orchestration in Canada, the United States, Ireland and several other jurisdictions. Concurrent with the complex M&A transaction, the innovative legal work on the transaction included clearance of the non-offering prospectus, managing the SPAC shareholder approval and redemption process, completing a significant private placement and establishing a syndicated credit facility."


Key Law Firms
Acasta:
Goodmans LLP

(Corporate/M&A); Fried, Frank, Harris, Shriver & Jacobson LLP (US Counsel)

Apollo:
Cassels Brock & Blackwell LLP

(M&A, Corporate)

JemPak:
Stikeman Elliott LLP; Bloom Lanys LLP

Stellwagen:
Blake, Cassels & Graydon LLP

(M&A, Corporate, Securities); Hogan Lovells (US Counsel)

Co-Financial Advisors and Settlement Agents and for JemPak:
Stikeman Elliott LLP
CIBC, TD Bank:
Davies Ward Phillips & Vineberg LLP




METROLINX SIGNS CONTRACT WITH ALSTOM TO SUPPLLY LRVs IN TORONTO

In another deal touted as being creative, Metrolinx entered into a $528-million deal with a Bombardier rival to order 61 light rail vehicles from Alstom. These vehicles are intended to be used on "Location A," but could be re-purposed to "Location B" if the Bombardier delivery is not available. Metrolinx and Bombardier, meanwhile, continue to see each other in court.


Key Law Firms

Alstom:
Davies Ward Phillips & Vineberg LLP
Metrolinx:
Norton Rose Fulbright Canada LLP



MILESTONE APARTMENTS REIT COMPLETES PRIVATIZATION BY STARWOOD CAPITAL GROUP

On April 28, 2017, Milestone Apartments REIT was acquired by Starwood Capital Group in a going private transaction for approximately $4 billion.

Stephen Pincus

, leading the

Goodmans LLP

team for Milestone, describes the deal's innovative aspects: "Milestone was the TSX's best performing REIT since its 2013 IPO as the first ever public offering anywhere in the world of a qualifying US REIT by a non-US entity. This unique structure provided Milestone with the tax efficiency of a typical US UPREIT without subjecting it to SEC registration requirements, while giving Canadian institutional shareholders tax-efficient exposure to US assets within a Canadian investment vehicle. This structure and numerous 'bought deal' offerings enabled Milestone to triple its equity market cap and generate annual compound returns for investors in excess of 28%.

"The sale to Starwood was the first time this unique legal structure has ever been 'tested' in a going private scenario, and the legal advisors were able to structure the sale to provide Starwood with full cost basis in the acquired assets while unitholders of the REIT were generally not subject to US withholding or income taxes. Ironically, Milestone's success made it difficult to obtain shareholder approval for the transaction, as several institutional investors didn't want to part with their investment; however, with the assistance of counsel, last-minute changes to the deal terms were negotiated, approval was obtained and the transaction closed."


Key Law Firms

Starwood:
Stikeman Elliott LLP

; Kirkland & Ellis LLP (M&A, Tax, Real Estate)

Milestone:
Goodmans LLP

(Corporate, M&A); Vinson & Elkins LLP



POWERSTREAM, ENERSOURCE AND HORIZON AMALGAMATE, FORMING ALECTRA (AND SUBSEQUENT $675-MILLION BOND FINANCING OF ALECTRA)

On January 31, 2017, PowerStream Holdings Inc., Enersource Holdings Inc. and Horizon Holdings Inc. amalgamated to form Alectra Inc. After their amalgamation, Alectra's subsidiaries, PowerStream Inc., Enersource Hydro Mississauga Inc. and Horizon Utilities Corp. amalgamated to form Alectra Utilities Corp. Alectra Utilities Corp. is expected to complete its acquisition of Hydro One Brampton Networks Inc. on February 28, 2017. The resulting entity is one of the largest municipally owned electricity utilities in Canada. Alectra Utilities Corp. serves approximately one million homes and businesses in the Greater Toronto-Hamilton Area, and is operational within a service territory comprising 15 Ontario communities.



Sharon Geraghty

of

Torys LLP

, which acted for the Province of Ontario, told Lexpert: "The transaction was incredibly unique with many stakeholders involved, including seven municipalities, and of course, the Province of Ontario and had an important policy objective — to be the catalyst for a more streamlined and efficient electricity distribution network in Ontario."


Key Law Firms

PowerStream:
Gowling WLG (Canada) LLP
Enersource:
Borden Ladner Gervais LLP
Horizon:
Stikeman Elliott LLP
Province of Ontario:
Torys LLP
City of Mississauga:
Goodmans LLP
PACIFIC COMPLETES RESTRUCTURING TRANSACTION

Brendan O'Neill

, leading the

Goodmans LLP

team for the Ad Hoc Committee of Noteholders and DIP Lenders, was very proud that the Canadian process was used in this transaction: "The Pacific Exploration Restructuring involved using the Canadian Restructuring regime available under the CCAA to lead a $4 billion multi-jurisdictional reorganization of a business with connections to Canada (the jurisdiction of its incorporation), the United States (the governing law with respect to the over $4 billion of debt) and Colombia (the centre of the company's operations). By using Canada's highly flexible and efficient CCAA process as the main process, with ancillary proceedings in the United Stated under Chapter 15 of the United States Bankruptcy Code and under Ley 1116 in Colombia, the company and its stakeholders were able to complete a highly complex and multi-jurisdictional reorganization in approximately 4 months of court time — a result that could not have been obtained had other jurisdictions served as the lead or main jurisdiction."


Key Law Firms

Pacific Exploration:
Norton Rose Fulbright Canada LLP

(Restructuring, Corporate/Securities, Financing, Tax, Litigation, Employment & Labour, Corporate/Regulatory); Proskauer Rose LLP; Seward & Kissel LLP; Garriques; Gomez-Pineson Zuleta Abogados

Administrative agent under credit facility:
Davis Polk & Wardwell LLP (Insolvency & Restructuring)

O'Hara Administration Co.:
McCarthy Tétrault LLP

(Bankruptcy and Restructuring)

Ad Hoc Committee of Noteholders and DIP Lenders:
Goodmans LLP

(Restructuring)

Noteholders forming part of the negotiating creditor group:
Paul, Weiss, Rifkind, Wharton & Garrison LLP (US Counsel); Cardenas y Cardenas Abogados

Creditor Group:
Davies Ward Phillips & Vineberg LLP
Bank of America:
Torys LLP
GMP Securities:
Wildeboer Dellelce LLP (Corporate/Securities)

Independent Committee of the Board:
Osler, Hoskin & Harcourt LLP
Monitor, PwC:
Thornton Grout Finnigan LLP
CANADIAN NATURAL RESOURCES ACQUIRES ATHABASCA OIL SANDS PROJECT INTERESTS FROM SHELL (AND COMPLETES JOINT ACQUISITION OF MARATHON OIL CANADA)

As we reported earlier in Lexpert: On May 31, 2017, Canadian Natural Resources Ltd. (Canadian Natural) completed two previously announced agreements to acquire oil sands assets from Shell Canada Energy, Shell Canada Ltd. and Shell Canada Resources (Shell) and, with a subsidiary of Shell, to jointly acquire Marathon Oil Canada Corp. (MOCC).


Under the first agreement, a subsidiary of Canadian Natural completed the acquisition of Shell's entire 60-per-cent interest in Athabasca Oil Sands Project (AOSP), its 100-per-cent interest in the Peace River Complex in-situ assets, including Carmon Creek, and a number of undeveloped oil sands leases in Alberta. The consideration to Shell from Canadian Natural was approximately $11.1 billion, comprising $7.2 billion in cash plus 97,560,975 common shares of Canadian Natural valued at $3.9 billion at the date of closing.

Separately and under the second agreement, Canadian Natural and one of Shell's subsidiaries have completed the joint
acquisition and now own equally MOCC, which holds a 20-per-cent interest in AOSP, from an affiliate of Marathon Oil Corp. for US$2.5 billion (US$1.25 billion each). On completion of the acquisition, the respective ownership interests in the AOSP assets are 70 per cent Canadian Natural, 20 per cent Chevron Canada Ltd., and 10 per cent Shell.

On June 1, 2017, a subsidiary of Canadian Natural commenced as operator of the AOSP upstream mining assets, while Shell continues as operator of the Scotford upgrader and Quest carbon capture and storage (CCS) project, located adjacent to the 100-per-cent Shell-affiliate-owned Scotford refinery and chemicals plants.


Key Law Firms

Canadian Natural:
Bennett Jones LLP
Shell:
McCarthy Tétrault LLP
Marathon:
Burnet, Duckworth & Palmer LLP

Lenders to Canadian Natural:
Norton Rose Fulbright Canada LLP